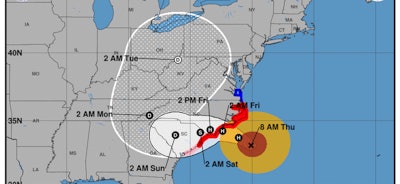 Hurricane Florence, currently a Category 2 storm, is forecast to arrive on the North and South Carolina coasts tonight into tomorrow morning. While it has been downgraded to Category 2 strength, Florence is still expected to pose a significant threat to much of the Southeast from Virginia to Georgia.
As of 8 a.m. ET this morning, the eye of the hurricane was located 170 miles east-southeast of Wilmington, North Carolina. It was producing maximum sustained winds near 110 miles per hour. The eye of the storm is expected to make landfall near Wilmington around 8 a.m. EST Friday.
The National Hurricane Center warns that Hurricane Florence is likely to bring with it a life-threatening storm surge along the coasts of South Carolina and North Carolina. Florence is forecast to be a slow-moving storm that is expected to deliver flash flooding and significant rainfall parts of the Carolinas and southern and central Appalachians late this week into early next week. Hurricane-force winds are also likely to affect parts of the South Carolina and North Carolina coasts.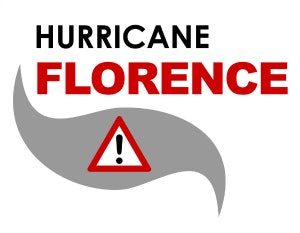 Even after having been downgraded, the center says the storm remains capable of ripping trees from the ground, wreaking major roof damage on homes and causing power outages that may last weeks and affect as many as three million households. Extreme flooding is also possible.
The Federal Motor Carrier Safety Administration issued a regional emergency declaration covering the following 13 states and the District of Columbia: Delaware, Florida, Georgia, Maryland, Kentucky, New Jersey, New York, North Carolina, Pennsylvania, South Carolina, Tennessee, Virginia and West Virginia. The declaration exempts drivers and carriers providing direct support of relief efforts related to the hurricane from Parts 390 through 399 of the Federal Motor Carrier Safety Regulations. The declaration is in effect through the duration of the emergency, or Oct. 10, whichever is less.
In anticipation of the storm, the FMCSA has canceled a public listening session on hours of service regulations it had scheduled for Friday, Sept. 14, in Washington, D.C. It has not been rescheduled at this time.
In light of the magnitude of Hurricane Florence, Sirius/XM radio is making The Weather Channel accessible to all Sirius/XM radios even if you do not have a subscription. Tune to channel 145 for continuing coverage.