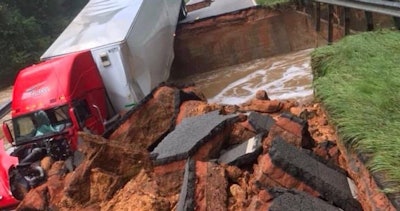 Hurricane Florence, now a tropical depression, dumped heavy rain across the Carolinas last week and some roadways are still flooded as the storm slowly moves northeast.
As of this morning, the North Carolina Department of Transportation is reporting that several sections of I-95 and I-40 are flooded. NCDOT is advising motorists to avoid traveling through southern, central and eastern North Carolina, as road conditions in those areas are rapidly changing. The most recent information on road conditions information for North Carolina is available on the NCDOT site.
The South Carolina Department of Transportation is reporting that sections of I-95 are closed near the North Carolina line. I-95 northbound is closed from Exit 181 north. The most up-to-date information on South Carolina's road conditions is available on the SCDOT site. At least one truck driver headed through South Carolina found themselves in trouble after a bridge gave out in Chesterfield while the area was under a flash flood warning. Local media reported that the truck driver was okay following the incident.
GPS navigation devices may not have the most current information on road closures and flooding, so it is advised that truck drivers double-check their routes if they will be driving through potentially affected areas.
Tropical Depression Florence is forecast to continue producing heavy rain and flash flooding as it heads northeast into the Mid-Atlantic and New England regions. The Weather Channel forecasts that the storm will move into western/northern Virginia, eastern West Virginia, central Pennsylvania and southern New York early this week.