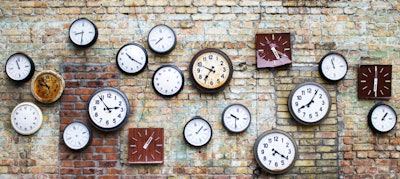 Transportation Secretary Elaine Chao and the Federal Motor Carrier Safety Administration's Raymond Martinez have in recent months said changes in federal hours of service regulations are being studied seriously.
Now it looks like truckers will get a better idea of what the government has in mind shortly. In a monthly regulatory update posted earlier this week, the Department of Transportation listed June 7 as the projected publication date for its proposal to alter hours of service regulations.
That date is not binding and could change, but it's the first insight the DOT and FMCSA have provided as to when a proposed rule on hours of service reforms could be unveiled. Even if things progress smoothly, the required procedural steps likely mean a revised hours rule would not take effect until 2020 or later.
The proposal is still under review by the White House's Office of Management and Budget. OMB must approve the rule before sending it back to FMCSA for publication. FMCSA filed the rule with OMB in late March.
Last summer and fall, FMCSA sought feedback from industry stakeholders on what revisions they'd like to see made to federal hours of service regulations. Chao announced in March that the DOT and FMCSA were planning a formal proposal to alter hours of service regulations. But, neither Chao nor officials at FMCSA have said what changes they intend to make to hours of service regs.
Also listed in the DOT's regulatory update is a projected window for public comments on the proposed changes. The DOT lists July 26 as the closing date for the comment period, meaning it would last roughly 50 days.
After publishing a notice of proposed rulemaking on hours of service, FMCSA will accept public comments and then decide whether to proceed to a final rule and whether changes need to be made to the proposed rule based on the public comments that are submitted.