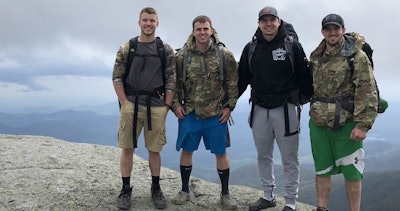 Bradley Chislett wanted to launch a career after he completed basic training for the U.S. Army Reserves in March 2018, and he'd always loved to drive. He decided to turn that affection for the road into a career by becoming a truck driver.
"I was looking for something career-wise to start out and kind of went for it and thought it would be a good place to start," said Chislett, who now drives for H.O. Wolding. Trucking has been a good fit because you have "the whole thing to yourself. You don't have to deal with too many people, it's just you and the road just driving and getting to explore new places."
Chislett was recently announced as a finalist for the 2019 Mike O'Connell Award for Trucking's Top Rookie. The award will be presented by Truckers News at the Great American Trucking Show in Dallas, Aug. 22-24.
Chislett worked for a year in shipping and receiving before he joined the Army Reserves and then went to trucking school. Working on the shipping and receiving end has helped him have patience when shipping and receiving delays pop up on his routes.
It's helped him with "realizing when you're at a place for a little longer than you think you should be, I understand what might've happened as far as what caused the delay," Chislett said. Building a positive relationship with the people who unload or load you can help you on your next visit, he says. "If you always have a good attitude when you go to them, then they'll maybe be a little more friendly and try and get you done a little more quickly. Like if you come on their lunch then they might work through it with you if they have a good relationship with you."
The Army Reserves helped foot the bill for Chislett to get his CDL. He started trucking school about five months after he completed basic training and has now been trucking for close to a year. The Army Reserves has helped Chislett build time management skills that benefit his trucking career.
"We have a lot of different specific hit times we have to make, otherwise we get in trouble here. It really helps as far as in trucking you have to be at a place at a specific time," Chislett said. "If you're late they'll either deny you and you'll have to make a new appointment, so it just kind of helps as far as being timely."
When he's not over the road, Chislett is outdoors. He spends his time kayaking or camping with friends, or going to the gym, "just a lot of fitness to try and keep me moving."
"When I'm driving it's long days of just sitting so when I have my time off I like to move around and try to offset that best I can to try and stay healthy that way," Chislett said.
The Mike O'Connell Award for Trucking's Top Rookie will be presented at the Great American Trucking Show Friday, Aug. 23 at 2 p.m. on the Truckers News Stage in Hall "A" of the Kay Bailey Hutchison Convention Center in Dallas. Registration for GATS is free online in advance of the show.
The winner receives $10,000. They also receive a prize package worth $530 from the RoadPro Family of Brands, which includes a RoadKing Noise Cancelling Bluetooth Headset, LUMAGEAR Headlamp, PowerDrive 1000 Watt Bluetooth Pure Sine Wave Power Inverter, BlackCanyon 64 oz. water bottle, BlackCanyon Large Duffle Bag, MobileSpec Qi Wireless Charging Mount, and RoadPro 12-Volt Soft Side Cooler. The winner also receives a ClearDryve 200, Rand McNally's premium noise-cancelling 2-in-1 headphones with removable earpieces and adjustable boom mic and the current Deluxe Motor Carriers' Road Atlas.
The other 10 finalists receive $1,000, a RoadPro Family of Brands MobileSpec Qi Charger, and Rand McNally's ClearDryve 200.
The Top Rookie award is presented by Truckers News with the support of the Commercial Vehicle Training Association, National Association Of Publicly Funded Truck Driving Schools, and Professional Truck Driver Institute.
Recognizing the top rookie driver was the idea of the late Mike O'Connell, who was formerly the executive director of the Commercial Vehicle Training Association. The award is named in his honor. He believed that honoring a top rookie driver helped show new drivers they are appreciated by the trucking industry.