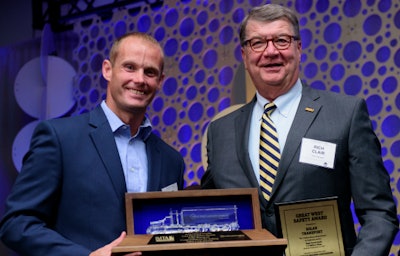 Des Moines, Iowa-based carrier Solar Transport received two awards from the Iowa Motor Truck Association recently.
On Sept. 24, during the IMTA's annual meeting, Solar Transport was awarded the IMTA Achievement Award for tank truck operations and the 2019 Grand Trophy for Fleet Safety Award.
"It is very exciting to be recognized for 'Best in Class' performance with the IMTA Safety Achievement Award for tank truck operations," said Rich Clair, Solar Transport president. "The only thing better is to be awarded the 2019 Grand Prize for our overall, comprehensive approach to safe operations. All of our associates at Solar realize that safety is a journey and constantly strive to be better than best every day. The entire leadership team at Solar congratulates the drivers who live the zero accident attitude and make that journey visible every day."
Solar transports bulk petroleum-related products in the Midwest, South-Central, Rocky Mountains, and the Pacific West. The company was started in 1963.