Bad driving weather does not take a holiday, and the current crop of storms across the U.S. will be working overtime this weekend.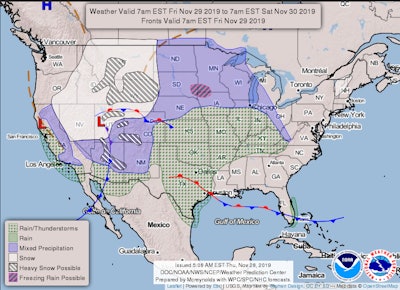 The West, Plains states and parts of the Midwest got pounded by bad weather earlier this week and through yesterday, Thanksgiving. Some parts of Colorado, Nebraska and Wyoming got between a foot and 18 inches of snow. And, the nastiness is supposed to continue through the weekend and on into the start of a new week and new month.
Oregon and California are expected to continue to get unseasonable amounts of snow, and more is forecast for the Upper Midwest into Michigan's Upper Penninsula.
The Weather Channel is predicting the Northeast could get snows normally associated with much later in the winter. The first big snowfall of the season is expected to begin Sunday and drop from 12 to 18 inches of snow from interior New York, across northeast Pennsylvania, and as far east as Boston. Snowfalls of between 8 and 12 inches are possible in adjacent areas through Monday.
That means travel along Interstate 90 across New York and into Massachusetts could get tricky. So could driving on Interstate 95.
Here's what the New York State Thruway Authority says:
"A Winter Storm Watch has been issued for all of eastern New York and western New England for Sunday into Monday. This will be a long, drawn-out event. Snow will begin Sunday morning and be heavy at times Sunday afternoon. There looks to be a lull Sunday night and although precipitation won't stop completely, there looks to be an intermittent light snow and a wintry mix through the night. Steady snow will redevelop across the entire area for Monday, with moderate to heavy snowfall possible once again."
Meanwhile, a powerful storm system is taking aim on several states in the south. High winds and heavy rains — and possible tornadoes — are forecast for parts of the central South. Rain is forecast from Texas and Oklahoma all the way up through the Oho Valley and across to the East Coast.