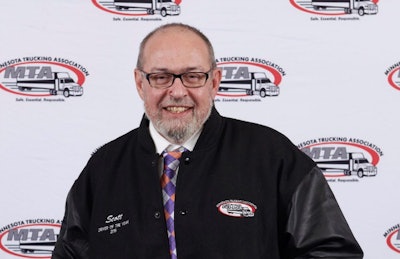 Scott Post, a driver contracted for FedEx Ground and employed by Spartan Logistics, was recently named the Minnesota Trucking Association's 2019 Driver of the Year.
He and 11 other drivers of the month were honored at the MTA's annual Driver of the Year at the Earle Brown Heritage Center in Brooklyn Center, Minnesota.
"Scott Post is one of the safest, most attentive, detail-oriented drivers I've ever had," said Randy Kurek, owner of Spartan Logistics. "He's always ready to learn and at the same time, is a sponge for industry knowledge. He lives and breathes trucking."
Post is involved with several community organizations, including Operation Lifesaver, the World's Largest Truck Convoy for Special Olympics and the Minnesota Trucking Association's Trucks for Toys program.
The award selection committee included the Federal Motor Carrier Safety Administration's Matt Marrin, Captain Jon Olsen of the Minnesota State Patrol, and Deb Ledvina of the Minnesota Department of Transportation.
"This award is a great way to honor the best in our industry," said John Hausladen, MTA president. "Driving safe is no easy task, especially when you take into consideration his daily driving conditions like congestion, driver distractions, and Minnesota winters. Having 2.5 million safe driving miles is an outstanding accomplishment. We're proud to award Scott for this achievement."