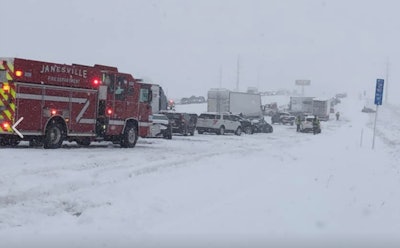 Four tractor-trailers were involved in a chain-reaction crash that shut down a Wisconsin interstate for several hours Sunday, Feb. 9. Some 24 vehicles in all were involved in the wreck, which occurred at about 2 p.m.
The pileup occurred in winter weather conditions on Interstate 39/90 near Janesville, which is about 40 miles southeast of Madison. Part of it was captured on a truck's dashcam.
Officials with the Wisconsin State Patrol said the pileup occurred when the driver of a tractor-trailer hit a tow truck that was stopped at the scene of an earlier accident. Authorities said the impact pushed the tow truck into the operator — and this second crash blocked I-39/90 northbound, and a series of crashes followed.
Two injuries, neither of which were considered life-threatening, occurred.
NY trucker dies in collision with farm tractor
The Broome County Sheriff's Office reports a truck driver died Monday, Feb.10, in a collision with a farm tractor.
Authorities say the tractor-trailer was traveling south on Route 41 in the Town of Sanford 30 miles east of Binghamton when it came upon the slow-moving tractor while going around a curve. They say the tractor-trailer's driver swerved to avoid the farm equipment and went off the road and into a ditch.
The momentum caused the steel I-beams it was carrying to slide forward, crushing the cab. Cole Wood, 32 of Walton, died in the crash. The driver of the farm tractor was uninjured.
Driver rescued from truck toppled by the wind
Two passing truckers rescued a third whose truck had been blown over by high winds in California Monday, Feb. 10.
The driver whose truck was toppled was pulled out through the windshield of his truck. The wreck occurred on northbound Interstate 15 in Fontana, east of Los Angeles.
Driver Jose Guevara, who was uninjured, said his trailer was empty at the time of the incident.
Guevara's two rescuers were not identified.