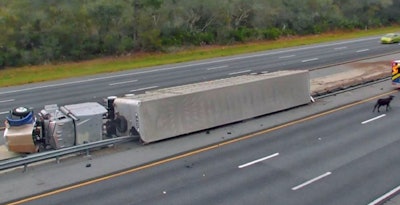 A tractor-trailer crashed through the wall of a Washington pizzeria sending the driver to the hospital but not injuring anyone inside.
According to the Grand Coulee Police Department, the truck crashed through Hometown Pizza in Grand Coulee at about noon on Thursday, Feb. 13. The truck also hit a car in the restaurant's parking lot before hitting the building.
No cause for the crash has been determined.
Grand Coulee is located about 100 miles northwest of Spokane.
Truckload of cattle topples on I-75 in Florida
Police say the driver of a tractor-trailer hauling more than 80 cattle fell asleep, hit a guardrail and flipped on its side Thursday, morning, Feb. 13, at about 8:30.
Cows ran loose on I-75 in Sumter County just south of Florida's Turnpike. Some scattered across the lanes after the crash, causing the interstate to be shut down in both directions while authorities rounded up the cattle.
The 59-year-old driver was not hurt but was cited for careless driving.
The crash killed 19 cows, troopers said.
HEE-HAW! Law enforcement is having a hard time roping up this cow as he fled on hoof.

Get the latest on the I-75 crash here: https://t.co/wGRcfA8XEM pic.twitter.com/fdweJbI5wN

— Spectrum News 13 (@MyNews13) February 13, 2020
Missouri Trooper car hit by tractor-trailer
Officials continue to look for the tractor-trailer that hit a Missouri State Highway Patrol cruiser on Wednesday, Feb. 12 near the Iowa border.
A trooper was helping a driver on northbound Interstate 35 at the 100 mile marker at 11:23 p.m. when the truck struck the cruiser, according to Missouri State Highway Patrol's Facebook page. The trooper was not injured, but the driver of the semi left the scene of the crash.
The post asks anyone with information about the crash to contact Troop H Headquarters at (816) 387-2345.
Two tractor-trailers collide in bad weather on I-70
Sherman County Sheriff's Office says winter weather conditions cause several accidents along Interstate 70 Thursday, Feb. 13, including one that involved two tractor-trailers.
Authorities say a tanker truck and a truck carrying furniture collided at mile marker 3 on westbound I-70. No serious injuries were reported.