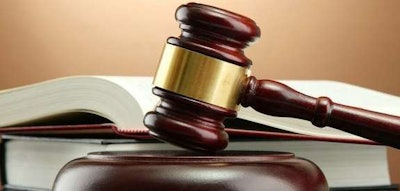 The driver of a tanker truck that drove into a large crowd of protesters in Minneapolis in May is now being charged with two crimes – a felony count of threats of violence and a gross misdemeanor count of criminal vehicular operation.
On May 31, Bogdan Vechirko drove his truck into a crowd of protesters on Interstate 35W, where he was then pulled out of his truck and beaten before bystanders stepped in to help. No protesters were seriously injured in the incident. The section of I-35 where Vechirko encountered the protesters had been closed, but he got to the area before state officials had a chance to barricade it.
At the time of the incident, Minnesota Public Safety Commissioner John Harrington said an ongoing investigation had not revealed any evidence to suggest that Vechirko intended to drive toward the crowd. He was released without charges.
Now, according to a criminal complaint, investigators reviewed traffic cameras and collected cell phone videos from witnesses that captured portions of the incident.
"The videos show that [Vechirko] did not stop his vehicle but continued into the area of the crowd at a high rate of speed," the complaint reads. "Various collected videos show that in addition to the large crowd, there were multiple vehicles stopped on I-35W northbound as the road approached the bridge and that a number of vehicles were driving the wrong direction up an entrance ramp to the freeway; all indicators that something was occurring up ahead."
The complaint adds that investigators also obtained a tractor-trailer to reenact the incident and found that Vechirko's line of sight "would have given him sufficient time to stop his truck after viewing the crowd."
According to the complaint, Vechirko admitted that "he was kind of in a hurry" and that when he saw the crowd, he hoped they would let him through if he drove slowly. He also told investigators he stopped when he saw someone fall and "acknowledged that he could have stopped the truck sooner," the complaint says.
"The thorough investigation showed that [Vechirko] wanted to scare the crowd out of his path," the allegations state.
Vechirko is not currently in custody, according to the complaint, and he will have his first court appearance on Nov. 10.