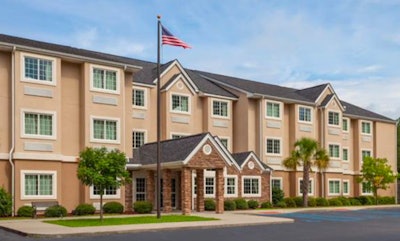 Iowa-based flatbed carrier TMC Transportation has acquired a 63-room hotel in Columbia, South Carolina for use by its drivers.
The existing Microtel Inn & Suites by Wyndham is located within five miles of TMC's driver training center. This allows the company to offer a convenient lodging solution for students.
The newly acquired facility is scheduled to open Dec. 12. Over the next few months, there will be modernization of furnishings. The Columbia location will offer free hotel rooms for drivers who are attending orientation and training. Guests will find a selection of restaurants and stores nearby.
With the purchase, TMC said drivers can "expect the same comfort and dependable, high-quality service that they are accustomed to" at TMC's Baymont Inn & Suites at the company's headquarters in Des Moines.
Both hotels offer rooms to the public, as well as TMC's drivers.
Staffed by TMC employees, customer service for drivers is paramount, according to a statement from the company. The statement added, "TMC takes pride in the ownership and management of the facilities that offer great hospitality to their professional drivers. Standards of excellence for which TMC is proud to embody will immediately be put into practice."
"I want to first thank Jason Webb for his trust in having me lead this new hotel venture for TMC," said Todd Bordenaro, general manager of hospitality, "This is a great opportunity for the company, its employees, and our student training program. We are excited for the challenge that it brings with the goal of becoming another Best of the Best Wyndham Brand Hotels for the Columbia, South Carolina community."