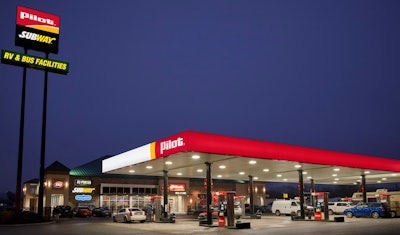 Pilot Company recently opened a new travel center in Palmdale, California, and announced the completion of the remodeling of eight existing stores as part of its New Horizons initiative.
The new location in Palmdale, California includes:
55 truck parking spaces
a full deli with freshly prepared pizza, homestyle meals, and grab-and-go options
Subway
Cinnabon
four self-checkouts
five shower rooms
seven diesel lanes with biofuel, DEF, and high-speed pumps
The remodeled stores and the changes include:
Altoona, Iowa: Upgraded restrooms and bathrooms, an expanded deli menu, and a new Cinnabon kiosk
Boonville, Missouri: A new breakroom for team members, a new kitchen to serve guests their favorite homecooked meals, and four self-checkouts
Florence, South Carolina: New kitchen for team members to prepare an expanded menu of fresh food and grab-and-go cold items, fully remodeled Wendy's, and four self-checkouts
Gordonsville, Tennessee: New restrooms and showers, remodeled Dunkin' Donuts
Hope Hull, Alabama: New deli with grab-and-go options, an expanded beverage selection, and a new Southern Tire Mart at the Pilot Flying J service center
Joplin, Missouri: Upgraded food and beverage selections, fully remodeled Wendy's, and four new self-checkouts
Pontoon Beach, Illinois: Fully remodeled restrooms, bathrooms, showers, kitchen, and Cinnabon kiosk
Sullivan, Missouri: Upgraded deli with additional grab-and-go items, expanded beverage selection, and four new self-checkouts
"Our team works hard to open a new store and make these remodels happen, and it's a moment of pride for them to celebrate with their family, friends, communities, and guests," said Allison Cornish, VP of Store Modernization at Pilot Company. "Being that September is also when we recognize Driver Appreciation, it was only fitting that we go even bigger with these events to create a fun atmosphere for professional truck drivers and community members to gather together and have a good time."
The three-year $1 billion New Horizons project marks the company's most significant investment in store modernization to date, according to a statement from the company. It will fully remodel more than 400 Pilot and Flying J travel centers and make additional upgrades at several more locations across the country.