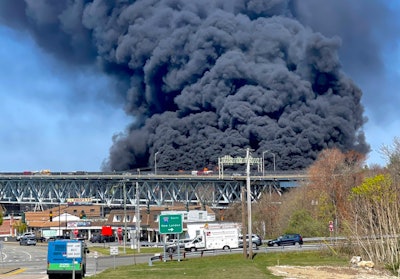 Connecticut State Police
A collision between a tanker truck and a car today caused a major fire on a major bridge on Interstate 95 in Connecticut.
The driver of the truck died in the crash that occurred at about 11 a.m. on the Gold State Memorial Bridge. The bridge carries traffic between New London and Groton over the Thames River.
Officials said others were injured in the collision, which closed the southbound lanes of the interstate. Northbound lanes reopened just before 1 p.m.
Southbound lanes are expected to be closed "for quite some time," according to Gov. Ned Lamont speaking at a press conference this afternoon. The state Department of Transportation will perform an inspection of the bridge and consider if it is safe for the northbound span to possibly handle two-way traffic.
Fire is said to have spread to a construction and marine company below the bridge on the Groton side, according to one report.
The crash remains under investigation.
The Gold Star Memorial Bridge is Connecticut's largest passenger and truck bridge at 6,000 feet in length. It has been undergoing a major overhaul. In January, U.S. Transportation Secretary Pete Buttigieg announced that $158 million from a new federal infrastructure law was being awarded to accelerate repairs on the northbound span.