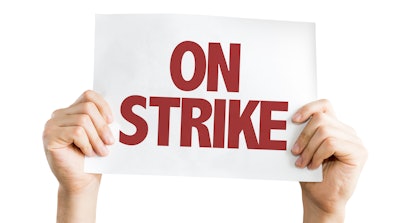 Mack Trucks employees who are members of the United Autoworkers Union voted overwhelmingly Sunday to reject the contract the union had negotiated with the company earlier this month and went on strike at three plants at 7 a.m. this morning.
Mack has some 3,900 employees at plants in Pennsylvania, Maryland, and Florida.
The tentative agreement reached Oct. 1 but rejected by 73% of Mack's UAW members included a 10% general wage increase in the first year for all employees, a compounded 20% increase to general wages over five years, and a guarantee of no increases in health insurance premiums through the term of the five-year contract. The union said among the issues that remain unresolved are wage increases, holiday schedules, seniority, retirement, and benefits.
"We are surprised and disappointed that the UAW has chosen to strike, which we feel is unnecessary," said Mack President Stephen Roy in a statement on the company's website. "We clearly demonstrated our commitment to good faith bargaining by arriving at a tentative agreement that was endorsed by both the International UAW and the UAW Mack Truck Council.
"We are committed to the collective bargaining process, and remain confident that we will be able to arrive at an agreement that delivers competitive wages and benefits for our employees and their families while safeguarding our future as a competitive company and stable long-term employer. We look forward to returning to negotiations as soon as possible."
The strike at the Mack plants joins the UAW's walkouts at some facilities of Ford, General Motors and Stellantis that began Sept. 15. Some progress was made in that strike late last week when General Motors agreed to include four battery plants under its master national agreement with the UAW.