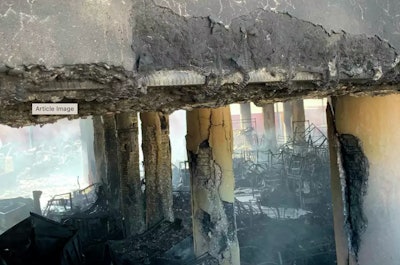 Caltrans
Part of heavily traveled Interstate 10 in downtown Los Angeles is shut down indefinitely because of a massive fire Saturday night that damaged an overpass.
I-10 between the East LA Connector and Alameda Street is closed until further notice, Caltrans said. Drivers on I-5 and State Route 60 are being diverted to Highway 101, while eastbound drivers on I-10 will have to exit at Alameda St. Truckers should check with Caltrans before heading out.
This section of I-10 handles about 280,000 vehicles each day.
Over 160 firefighters from 26 companies fought the blaze that began at a wood pallet storage lot on the 1700 block of E 14th Street below the overpass. Flames eventually covered some eight acres, destroying several trailers at the first lots and spreading to a second pallet storage lot. Several vehicles were destroyed and a fire truck was damaged.
The intense blaze heavily damaged the i-10 overpass, damaging concrete pillars and melting guardrails. Caltrans inspectors are assessing the amount of damage done to the highway.
The closure of I-10 prompted a state of emergency declaration in Los Angeles County by Gov. Gavin Newsom. The proclamation facilitates clean-up and repair work and directs Caltrans to formally request assistance through the Federal Highway Administration's Emergency Relief Program, if appropriate.
"The state is mobilizing resources and taking steps to ensure any necessary repairs are completed as soon as possible to minimize the impact on those traveling in and around Los Angeles," said Governor Newsom. "I want to thank all of the first responders and firefighters working tirelessly to contain this fire. The state will assess damage, remove hazardous waste and begin repairs as soon as the site can be accessed. Caltrans and the California Highway Patrol will continue to provide updates as they become available."