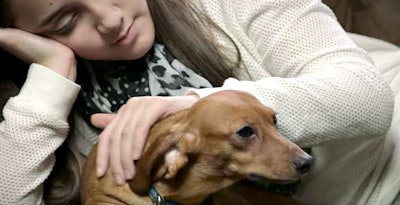 Netflix has gone to the dogs, and that's a good thing. The streaming service offers several documentaries about dogs available this month. Among them are:
A Dog's Life. This CBC documentary looks at life — and us — through the eyes of a dog. It explains how dogs perceive and understand reality.

Second Chance Dogs. The American Society for the Prevention of Cruelty to Animals has a behavioral rehabilitation center meant to help abused dogs recover so they may be adopted. It's an inside look at the work being done to undo the harm inflicted on these dogs.

Dogs On The Inside. Tag lined "Everyone deserves a second chance," this documentary is about a program that matches abused and rescued dogs with prison inmates, and how both benefit from the relationship.

Martin Clunes: A Man and His Dogs. The British actor Martin Clunes is, like many of us, a "dog" person. This documentary follows Clunes as he learns more about his three dogs, and dogs in general, by meeting canines with special talents around the world.

Unleashed! A Dog Dancing Story. Another CBC "dogumentary", this one is about a man with a vision: stage a Cirque du Soleil style performance featuring dancing dogs and kites.