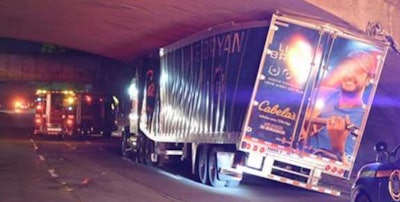 The country singer whose debut album included the hit single We Rode In Trucks had his concert tour interrupted by, of all things, a truck accident.
A tractor/trailer hauling equipment for Luke Bryan's Huntin', Fishin' and Lovin' Every Day tour crashed into an overpass on the Wantagh State Parkway on New York's Long Island in the early morning hours Monday.
Police continue to investigate, according to Newsday. The Long Island newspaper adds that it was uncertain if there were any injuries.
Bryan had performed earlier at the Jones Beach Theater.
While commercial vehicles are normally prohibited from using New York's parkways, some are often given special permits to reach concert venues like the one at Jones Beach. It's unclear if Bryan's truck had such a permit.