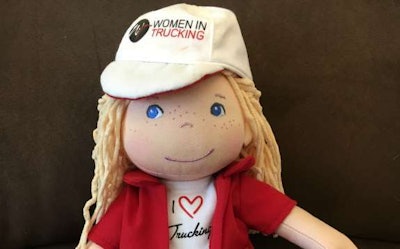 Clare is a new plush trucking-themed doll developed and produced by Upstate New York toymaker HABA for the Women In Trucking Association, Inc.
The doll named Clare stands 13″ tall and wears a Women in Trucking cap, an "I Heart Trucking" t-shirt, red shirt, jeans, and boots. Her packaging includes the story of her journey into the driver's seat of her own 18-wheeler.
"The launch of this doll is a long-time dream come true for me," said Women In trucking CEO Ellen Voie. "The world is wide open for girls today and I'm thrilled to be providing a toy that tells them that whatever they want to be is just great — whether that's a teacher or an ad exec or a professional driver."
The doll emerged when Voie bumped into Lea Culliton, president of HABA USA, in an airline lounge.
Clare will be available at travel centers including TA/Petro Stopping Centers beginning in March. It may also be purchased online at HABA for $34.99.