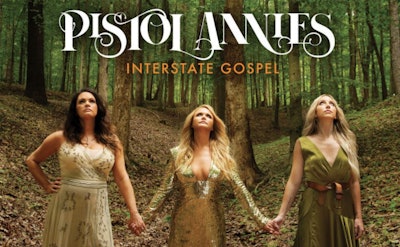 Pistol Annies, the high-powered country band featuring Ashley Monroe, Angaleena Presley, and Miranda Lambert, is back with its third album, Interstate Gospel.
In announcing the new album, the band's website said, "Moving from celebratory anthems, classic country storytelling, and vibey swagger, the Grammy-nominated trio are back and sounding Annie-er than ever."
The new album follows 's 2013's Annie Up, and the group's 2011 debut Hell On Heels, which went gold.
All of the songs on Interstate Gospel were written by Lambert, Monroe, and Presley, except "This Too Shall Pass," which is written by Monroe and Presley.
"… from the housewife harmony blues on 'Best Years of My Life' to Lambert's haunting post-divorce balladry on 'Masterpiece,' (the new album) is a sharply-rendered sketch of bruised hearts and shaken souls that amounts to the group's most moving work to date," wrote Jonathan Bernstein in Rolling Stone.
Tracks include:
Interstate Prelude
Stop Drop and Roll One
Best Years of My Life
5 Acres of Turnips
When I Was His Wife
Cheyenne
Got My Name Changed Back
Sugar Daddy
Leavers Lullaby
Milkman
Commissary
Masterpiece
Interstate Gospel
This Too Shall Pass