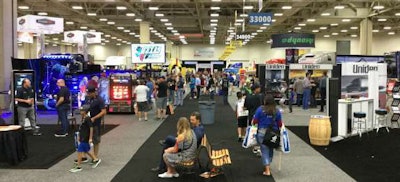 Attendees of the Great American Trucking Show in Dallas Aug. 22-24, will have the opportunity to hear about electronic logging device implementation and the CDL Drug & Alcohol Clearinghouse directly from members of the Federal Motor Carrier Safety Administration staff.
FMCSA will host two one-hour sessions during GATS, which takes place at the Kay Bailey Hutchison Convention Center. Both sessions will be titled, "FMCSA Hot Topics: ELD Implementation and Transition, the Drug and Alcohol Clearinghouse and more." FMCSA's Joe DeLorenzo, director of the Office of Enforcement and Compliance, and Bill Mahorney, division chief of enforcement, will speak.
The sessions will be held Thursday, Aug. 22, from 3-4 p.m., and Saturday, Aug. 24, from 1-2 p.m. on the Hall A Stage at the show.
FMCSA will also host a listening session Friday, Aug. 23, from 10 a.m. to noon with an update from Administrator Ray Martinez.
Registration for GATS is free online here.
The three-day trucking industry extravaganza also includes:
Landstar Health and Wellness Pavilion
the selection in the Overdrive-Red Eye Radio Truckers Talent Search winner
naming of Trucking's Top Rookie, which is presented by Truckers News
a pavilion featuring the latest trucking-related products
more than 500 exhibitors
musical entertainment and celebrities
recruiting pavilion where you can talk to fleets looking to hire drivers
a series of free educational programs including Overdrive's Partners in Business seminars
If you're driving your rig to GATS, you can park at the TA-Petro Truck Parking Community. Featured is nightly entertainment, free shuttles to and from the convention center, a shower trailer, truck maintenance, pet grooming, food by Flaming Grill Barbecue Food Truck, and auctions to benefit the St. Christopher Truckers Fund. The TA-Petro Truck Parking Community is located at 3013 S. Haskell Ave.
Show hours are:
Thursday, Aug. 22 noon to 5 p.m.
Friday, Aug. 23, 10 a.m. to 5 p.m.
Saturday, Aug. 24, 9 a.m. to 4 p.m.