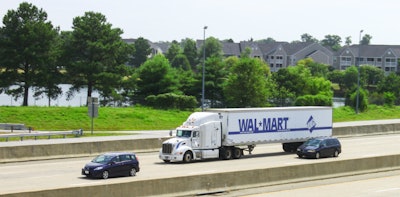 One of the largest private fleets in the American trucking industry is looking for more qualified drivers again, jobs that come with some of the profession's top salary and benefits packages.
Our colleague James Jaillet, executive editor for Commercial Carrier Journal and Overdrive writes:
Walmart Transportation, which last year aggressively grew its private fleet by 900 drivers, hopes to continue that growth in early 2020 by adding another 500 drivers in the coming months. The fleet's expansion is meant to serve a two-fold purpose: To keep up with demand from the retail giant's sales growth both in stores and online and to bring more of its transportation needs in house — and away from the for-hire market.
More than continuing to move its trucking business in house and away from for-hire fleets, Walmart also is a daunting competitor in the driver recruiting space. And it's likely many of the 500 drivers it plans to hire will be plucked from the for-hire ranks.
For instance, Walmart drivers average $87,500 annually in pay, and drivers that stay with the fleet can earn upwards of $100,000. That's well above the annual averages of drivers who work at for-hire fleets. They also start receiving benefits, like retirement and health insurance, on the first day on the job, along with 21 paid days off their first year at the company.
Read Jaillet's full story here.
Search thousands of trucking jobs to find the job you want.
Find Your Next Job Today