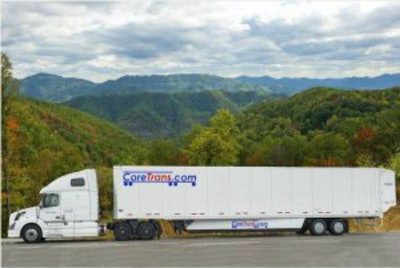 In response to the COVID-19 coronavirus pandemic, one Kentucky carrier is increasing driver pay.
Somerset, Kentucky-based CoreTrans LLC recently announced an increase of 5 cents per mile for drivers. The company says this boost is to compensate and thank drivers for the potential risk of infection as they drive. With this increase, drivers can earn up to 49 cents per mile based on experience and the additional 5 cents per mile hazard pay.
In addition to the pay increase, CoreTrans offers $2,000 paid orientation, a $5,000 sign-on bonus, health, dental, vision and life insurances, 401k, and paid vacation. CoreTrans offers 100% no-touch freight, no forced dispatch to New York City, and a pet and rider policy. Drivers have additional earning potential with CoreTrans' $3,500 referral bonus and .5 CPM raises every six months with no cap.
CoreTrans was founded in 2002 by President Brian Whitaker, a third-generation trucker. It has 147 power units and 111 drivers according to the Federal Motor Carrier Safety Administration's SAFER database.
Search thousands of trucking jobs to find the job you want.
Find Your Next Job Today