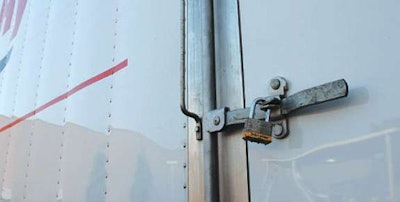 While the upcoming Memorial Day weekend is expected to have a record low amount of traffic on the nation's highways, it conversely could mean a busier than normal time for cargo theft in the trucking industry.
For the first time in 20 years, AAA will not issue a Memorial Day travel forecast, as the accuracy of the economic data used to create the forecast has been undermined by COVID-19 coronavirus, according to a statement from the company. However, AAA says "anecdotal reports suggest fewer people will hit the road compared to years past for what is considered the unofficial start of the summer travel season."
However, cargo theft tracking firm SensiGuard warns trucking companies and drivers of "extremely active" cargo theft rings during the long holiday celebration.
Memorial Day weekend begins Friday, May 22, and concludes Monday, May 25.
"Last year, 43 million Americans traveled for Memorial Day Weekend – the second-highest travel volume on record since AAA began tracking holiday travel volumes in 2000," said Paula Twidale, senior vice president, AAA Travel. "With social distancing guidelines still in practice, this holiday weekend's travel volume is likely to set a record low."
Memorial Day 2009 holds the record for the lowest travel volume at nearly 31 million travelers, according to AAA. That holiday weekend, which came toward the end of the Great Recession, 26.4 million Americans traveled by car.
The Centers for Disease Control and Prevention continues to recommend that Americans stay home and avoid nonessential travel. Americans should heed all official warnings and refer to the latest updates from the CDC and U.S. Department of State to help decrease the spread of COVID-19, according to AAA.
SensiGuard says it has recorded theft rates up to 71% higher and average values up to 292% higher during past Memorial Day weekends than on non-holiday weekends. Since 2014, Memorial Day weekends have seen an average theft value of $324,403 totaling more than $12 million.
SensiGuard recommends trucking companies make sure security protocols are up-to-date, while also confirming receivers' hours for the holiday weekend to mitigate the time a truck is parked unattended. Covert GPS tracking and active monitoring of high-value shipments is also recommended, the firm says.
The firm also notes that truck stops, rest areas, and distribution centers are frequent targets for cargo thieves and recommends drivers look for parking areas with controlled access, adequate lighting, and surveillance.