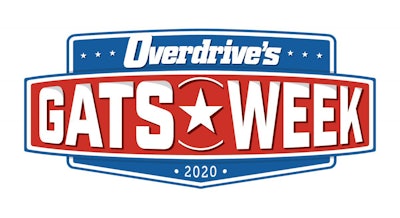 While the Great American Trucking Show was forced to postpone this year's show in Dallas, some of the marquee events of the show are online this week.
Several events will be staged online including:
Wednesday, Aug. 26, HOURS OF SERVICE DISCUSSION. If you have a question about the hours of service rule going into effect on Sept. 29, long on to Overdrive's Facebook page at 8 p.m. Eastern to get answers directly from Joe DeLorenzo of the Federal Motor Carrier Safety Administration. DeLorenzo, director of enforcement and compliance for FMCSA and also the acting associate administrator, has been a regular on the Great American Trucking Show stages in years past. For this virtual seminar, he'll detail some of the intricacies of the hours changes.
Thursday, Aug. 27: OVERDRIVE'S 2020 SMALL FLEET CHAMP. This new contest will culminate with a panel of the three finalists discussing compensation, driver recruitment and other topics of concern to small fleets, followed by a question and answer session with listeners. The winner, announced after the panel discussion, will receive an oversized championship belt and will be featured in Overdrive and Commercial Carrier Journal. The Small Fleet Champ program is sponsored by Pilot Company's One9 Fuel Network.
Friday, Aug. 28: OVERDRIVE-RED EYE RADIO TRUCKER TALENT SEARCH. Three finalists will perform a song to compete for the title. The winner will be featured in Overdrive and will receive a day's recording session in Nashville, Tennessee.
Friday, Aug. 28: OVERDRIVE'S PRIDE & POLISH. Following readers' online voting on photo entries of customized trucks submitted this summer, winners will be announced in seven categories. The program will begin at 8:30 EST, following the Trucker Talent Search.
You can register to receive timely reminders for every event via this link.