New York is cracking down once again on commercial vehicles that hit some of the bridges in the state, especially those on many of the parkways in the New York City metropolitan area.
To prevent such bridge strikes, the New York State Police, the New York State Department of Transportation, and the Governor's Traffic Safety Committee launched an enforcement and education effort that runs through Sunday, Nov. 15. New York State averages about 220 bridge strikes per year, resulting in the potential for injury for the truck driver and nearby motorists, costly repairs to the bridge itself, and substantial traffic disruptions. There have been more than 1,100 bridge strikes on New York roadways since 2015, according to the state.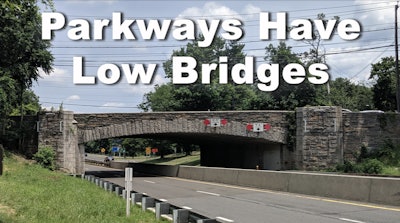 The enforcement/education effort comes just as the state completed a $3.8 million bridge replacement project of the Old State Road Bridge over the Thruway in Albany County. The overpass bridge, located between Exit 24 (Albany – I-87) and Exit 25 (Schenectady – I-890), had been the subject of numerous over-height truck hits throughout the past several years. The new bridge height will prevent similar incidents in the future with an increased clearance of 16 feet, 6 inches for traffic traveling on the Thruway.
As part of this week's enforcement effort, state troopers will focus active patrols in areas in each Troop where there have been documented bridge strikes by large commercial vehicles. These bridge strikes are most likely to occur on roadways with low railroad bridges, and on New York State Parkways. Commercial trucks are banned on parkways, but operators guided by consumer-grade GPS devices can end up on parkways, and when that occurs a bridge strike is inevitable. Consumer GPS devices do not include information about low bridges, truck drivers are required to instead use commercial-grade GPS systems which provide details about low bridges and restricted routes.
In addition to increased enforcement, a tip card and other materials were developed to educate drivers – especially drivers of box trucks and other commercial vehicles – about the hazards of low bridges and how to avoid them. The educational materials will be made available to the public at highway rest areas, Department of Motor Vehicles Offices and truck rental facilities.
Since 2013, the New York State Department of Transportation has participated in a regional Bridge Strike Task Force in the Hudson Valley. Because of this multi-agency effort, NYSDOT added new signage and pavement markings along the Hutchinson River, Saw Mill River, Cross County, and Sprain Brook parkways and ramp entrances. Over-height vehicle detection systems have been installed at multiple locations across New York State. `
New fines and penalties for those driving commercial vehicles on New York State parkways went into effect Sept. 3. Penalties for commercial vehicles on parkways are broken down by weight class, and there are also penalties for over-height vehicles. The maximum fines and penalties include:
Less than 10,000 pounds:
First violation – $250 and/or 15 days in jail
Second violation within 18 months – $500 and/or 45 days in jail
Third or subsequent violation within 18 months – $750 and/or 90 days in jail
Between 10,000 and 26,000 pounds:
First violation – $350 and/or 15 days in jail
Second violation within 18 months – $700 and/or 45 days in jail
Third or subsequent violation within 18 months – $1,000 and/or 90 days
First violation – $700 and/or 15 days in jail
Second violation within 18 months – $1,500 and/or 45 days in jail
Third or subsequent violation within 18 months – $2,000 and/or 90 days in jail
New fines and penalties for over height vehicles included:
First offense – $1,000 and/or 30 days in jail
Second or subsequent offense – $2,000 and/or 60 days in jail