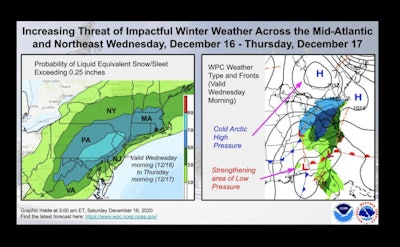 Much of the Northeast expects a major storm later this week to deliver as much as two feet of snow in some locations, freezing rain in others, and blizzard-like conditions in parts of New York, New Jersey, and southern New England.
The storm is expected to cover from Southern Illinois, to the Middle Atlantic states, the Northeast and into eastern Canada. The storm is still forming and is expected to unfold from Tuesday, Dec. 15 through Thursday, Dec. 17, and effect travel on major thoroughfares including Interstate 95.
The storm is expected to begin over the Ohio Valley and the southern Appalachian Mountains Tuesday night and spread across the central Appalachians and mid-Atlantic states during the day Wednesday. The storm's impacts will reach southern New England Wednesday evening.
According to Accuweather, "The combination of heavy snow and gusty winds can create near-blizzard conditions just inland of the coast where all or mostly all of the snow falls from the storm. Northern New Jersey and the lower Hudson Valley of New York state through southern New England is the most likely zone to experience near-blizzard and whiteout conditions. In this area, winds can frequently gust between 40 and 50 mph, dropping the visibility to near-zero at times at the height of the storm Wednesday night into Thursday morning."
As much as a foot of snow could land on:
Boston
Providence, Rhode Island
Hartford, Connecticut
Scranton, Allentown, Harrisburg and State College, Pennsylvania
Patterson, New Jersey
Hagerstown, Maryland
Several inches of snow are expected in New York City, Philadelphia, Baltimore, and Washington, D.C. Snow is expected to end by Friday morning.
According to Accuweather, ice is forecast to cover parts of western North Carolina, upstate South Carolina, southwestern and central Virginia and part of central Maryland from last Tuesday night to Wednesday.