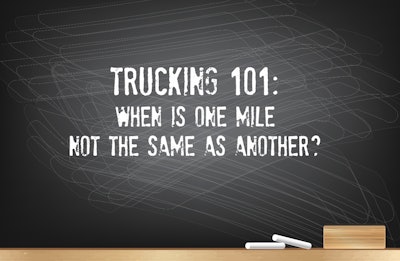 UPDATE: This from Tim Norlin: vice president of driver employment: "Roehl Transport compensates our drivers on Address to Address mileage and has been doing so since 2019. To my knowledge, we are the only major carrier to use Address to Address miles to compensate our drivers." See details below.
More often than not, most company drivers are paid a certain amount of money for each mile they drive commonly referred to as Cents Per Mile or shortened to CPM.
But, not all miles are created equal.
There are several types of miles trucking companies use to calculate driver pay.
Hub Mileage is pretty straightforward when called by its other name, Actual Miles. These are the miles actually accumulated on your truck's odometer from start to finish. They include any miles you might drive if you have to take a different route to avoid congestion, closed highways, bad weather or any gyrations you may need to go through to find a place to park. In short, any and all miles you drive. This makes it easy to calculate your pay day by day. Subtract your beginning odometer reading from your ending one and multiply it by your rate per mile or CPM.
Household Goods Miles may also be called ZIP Code miles, depending on the term your employer uses. This means of tracking miles -- and your pay -- is based on the most direct -- not necessarily the fastest -- route from the main post office in your beginning locale to the one in the city of your destination. It is said to have been created by the U.S. Department of Defense as a way to calculate what it would pay to have a service member's household goods moved from one location to another.
Practical Miles are generally set by calculating the most efficient route, and not necessarily the shortest. These are often routes that are standardized by a company's dispatch department.
Address to Address Practical Route Miles. This calculates practical route miles not just from zip code to zip code but actual shipper address to consignee address. This calculation gets as close to actual miles driven aside from hub miles without including wrong turns, driving around truck stops, etc.
Short Miles suggest that some miles are longer than others. That's not the case. Instead, think of this as miles based on the old measurement of "as the crow flies." Suppose you pick up a load in Houston and have to deliver it to Tampa. Following the interstates would mean traveling between 1,100 and 1,000 miles depending on the route you take. However, the trip based on short miles would be just 781 miles but have the minor drawback of having to drive your truck across the Gulf of Mexico.
Related News: FMCSA urges basic safe driving behaviors by truckers, other motorists
When applying for a job and discussing pay, be sure to find out what kind of miles the company uses to compensate their drivers. And, ask how many miles you can expect to drive each week. They may pay 60 cents per mile but if you only get 1,000 miles a week, you may not earn enough to cover your household expenses and those of living on the road.
Also, be sure to ask what other compensation you can expect while driving or when you are not.
Do not be shy. Ask all the questions you need to get the information you require and be sure to read the fine print.