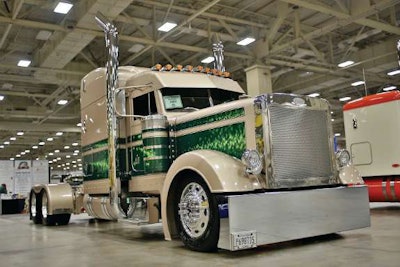 Muscoda, Wis., residents Ken and Barb Fisher have had this hard-working 1997 Peterbilt 379 for some 13 years, logging more than 1.8 million miles and making numerous changes and upgrades.
The Fishers have done much of the work that has turned it into a fixture on the show circuit when it's not on the road for Mercer Transportation out of Louisville.
Among the many changes to take it from stock to "Wow!:
Stretching the frame to 312 inches
Upping its Cat engine to 625 hp
Reworked, upscaled posh interior
Wood flooring
New 63-inch stand up sleeper
And, of course the green flames … lots of flames, which came with a paint job after a scrape-up while parked at a truck stop. There are flames inside and out and even under the hood.
This mocha and green Pete' pulls a 2007 aluminum East trailer.