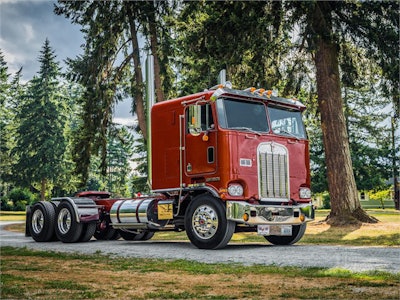 If you'rea fan of vintage trucks, and especially Kenworths and their cabover models, then you might be interested in an upcoming program.
The American Truck Historical Society offers a two-part online presentation titled, Evolution of a Legend: The Kenworth K100, 1963-84. The first part is online Oct. 27 at 6:30 p.m. Central Time. The conclusion will be Nov. 3 at 7 p.m. Central.
Doing the presentation is David Eichelbaum. He'll discuss "how the K100 cabover models evolved and endured to become one of the most popular designs in trucking history." Eichelbaum will also examine what influenced early K100 development and explore the different sub-models, production and design details, and the later VIT cab and special edition trucks like the VIT200 Bicentennial model.
Eichelbaum has been a truck enthusiast since first watching big rigs roll in and out of his grandparent's general store in Lynchburg, Virginia throughout the 1970's and early 1980's. He's been an ATHS member since 2009, and is a musical instrument maker, historian, and restoration specialist.
Eichelbaum has been restoring a 1973 K123 cabover for the last eight years and debuted the finished restoration at the 2019 ATHS Convention in Reno, Nevada. He also has a background in automotive parts manufacturing and has owned and restored a number of classic cars.
You can register for the free webinar here.