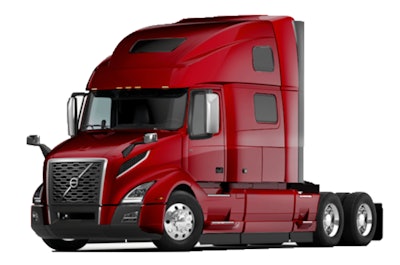 Landstar System, Inc. has announced the date of the 2021 Landstar All-Star Truck Giveaway, along with the names of the four Landstar owner-operators in the running to win a 2022 Volvo VNL64T.
The truck giveaway will take place online via Zoom video conferencing on Tuesday, July 13.
In alphabetical order, the four finalists eligible to win this year are:
1 Million Mile Safe Driver Dennis Bramblett from Hannibal, Missouri
2 Million Mile Safe Driver and Landstar Roadstar Bill Higgins from Catawba, South Carolina
1 Million Mile Safe Driver and Landstar Roadstar Lisa Ringelstetter from Plain, Wisconsin
1 Million Mile Safe Driver Dale Burke from Abernathy, Texas
This year's All-Star Truck Giveaway finalists were randomly drawn from a pool of Landstar's 1,102 active 1 million mile, 2 million mile and 3 million mile safe drivers and Roadstars. The Roadstar designation is the company's highest honor for truck owner-operators awarded to the "best of the best" based on their high levels of safety, productivity, and excellence in customer service.
The giveaway truck, a 2022 Volvo VNL64T, is dark garnet red metallic and features a 455-horsepower Volvo D13 engine, Volvo 12-speed I-Shift transmission, and Volvo Active Driver Assist 2.0 collision- avoidance system.
The truck winner will be determined by each of the four finalists selecting a single box among four boxes, one of which contains the key to the new truck. Whoever guesses the correct box wins.
"Landstar is pleased to continue the tradition of awarding a new truck to one of our Roadstar or Million Mile Safe Drivers as a way to recognize the safety and service excellence of these elite owner-operators," said Landstar President and CEO Jim Gattoni.