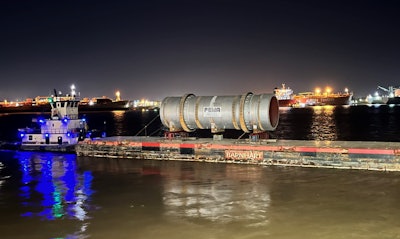 Arkansas DOT
The Arkansas Department of Transportation and Arkansas Highway Police will be assisting in the transportation of a 300-ton piece of equipment along state highways from Crossett to Gum Springs starting Wednesday, May 10.
The piece of equipment requiring transport is a kiln furnace imported from Italy and weighing more than 600,000 pounds. Its journey from Crossett to the Veolia Thermal Hazardous Waste Treatment Operation in Gum Springs is expected to take six days.
The equipment will be transported by Barnhart Crane and Rigging of Memphis, Tennessee. It is scheduled to leave the Crossett Port Wednesday, May 10, arriving in Gum Springs Monday, May 15.
Travel times will begin at 8 a.m. each weekday and at sunrise on the weekend. The transport will move at no more than 5 to 20 miles per hour. Expect travel delays.
The equipment will move along the following route:
Wednesday, May 10 (8 a.m.) – US-82 at Crossett Port to AR-275 in Strong
Thursday, May 11 (8 a.m.) – US-63 to US-167 in El Dorado
Friday, May 12 (8 a.m.) – US 167B to US-79 to Stephens
Saturday, May 13 (Dawn) – Stephens to US-278 to Rosston
Sunday, May 14 (Dawn) – US-278 to US-371 to 2nd Street in Prescott; AR-24 to AR-53 to Gurdon
Monday, May 15 (8 a.m.) – AR-53 to US-67 to Gum Springs