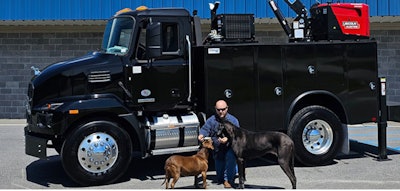 Mack
Mack Trucks announced Thursday, May 18, the winners of the 2024 Mack Trucks Calendar Contest. Each of the winning entries will represent a month in next year's Mack calendar.
Mack fans and followers voted online to choose the winning Mack trucks from among 171 submissions in seven categories. The winners will participate in a professional photo shoot set up by Mack. All entries and their photos can be viewed at contests.macktrucks.com.
"The response to this year's contest was fantastic," said David Galbraith, Mack Trucks vice president of brand and marketing. "We had six times the number of votes as we did in 2022 and the number of entries with dogs in support of our ASPCA sponsorship was heartwarming. Many of our dealers got involved as well by promoting their customers' entries."
Mack truck owners submitted photos of their trucks to the Mack Calendar Contest in seven categories: Mack Anthem, Pinnacle, Granite, LR, TerraPro, and MD Series, plus an additional category for legacy Mack models that are no longer in production but still being used. This year's entrants were able to earn bonus points for including their dog in their photo or video entry.
To be eligible for the calendar, each truck, including the legacy models, must currently be in operation in a business or trucking company; the truck must be in routine use; and trucks may not be collector or show trucks that are no longer licensed for commercial use.
The winning entries in each category are:
Granite Category
Tas Trucking, Inc., Kitchener, Ontario, Canada
Silverline Group, Inc., Thorold, Ontario, Canada
Anthem Category
Growmark FS, Manson, Iowa
McNeilus Steel, Inc., Dodge Center, Minnesota
Mack MD Category
Fogel's Fuel Service, Bangor, Pennsylvania
Solid Waste Applied Technologies (SWAT), Inc., Statesboro, Georgia
Pinnacle Category
Marty Kissick, owner-operator with Northwest Tank Lines, Calgary, Alberta, Canada
Scott Schappaugh, Schappaugh Trucking, LLC, Hannibal, Maryland
Mack LR Category
Amwaste, LLC, West Point, Georgia
TerraPro Category
Cyclone Trucking, The Colony, Texas
Legacy Category - Old Bulldogs Still Hard at Work
1987 Mack RW713 tractor -Coastal Trucking, Ladysmith, British Columbia, Canada
1987 Mack Superliner dump - Rosemar Construction, East Moriches, New York