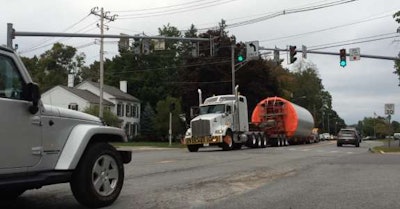 Hamilton, New York is a quiet (mostly) community in rural Upstate, New York about 45 miles southeast of Syracuse surrounded by farmland. It's also home to Colgate University (insert toothpaste joke here).
Generally speaking, traffic is not an issue locally except when students return each August and when they graduate each May.
I live about four miles outside the village and was in town Friday, Sept. 23 just as this oversized load deftly maneuvered through the tricky five-way intersection even locals who have lived here all their lives have trouble with and headed south on Route 12B.
And, while it wasn't the biggest news of the week, it was close to it.