Most of the time you have to go out in search of the news.
On rare occasions, the news comes to you.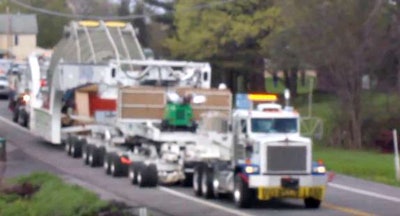 Such was the case May 3 when this oversized load passed my house on State Route 12 in rural Upstate New York on its way to Pennsylvania.
Julie Holman, marketing coordinator of Edwards Moving and Rigging of Shelbyville, Kentucky, said this turbine was manufactured at the General Electric plant in Schenectady, New York and was bound for the Lackawanna Energy Center in Jessup, Pennsylvania.
And, Holman provided the tale of the scales: The turbine weighs 374,900 lbs. by itself. It was loaded on an Edwards Aspen A500 Dual Lane Transporter manufactured by Aspen in Canada. Gross weight for the push/pull trucks, trailer and turbine is 913,227 lbs.
Edwards' J.R. Hutchison provided the details on the three prime mover trucks:
2017 Kenworth C500's with triple frames
Cummins X15 engine rated at 565 HP
Allison 4700RDS 7-speed automatic transmission
DT Planetary drives with a final gear ratio of 20:1
The background commentary on the video is provided by Eddie, our 2-year-old Pembroke Welsh Corgi, who always has something to say about slow-moving vehicles in front of our place.