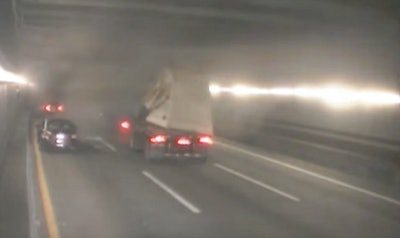 A 59-year-old trucker from Canada was ticketed Thursday morning after his load struck the ceiling of the O'Neill Tunnel on southbound Interstate 93 in Boston. He was cited for a load that was too wide and too high, according to Massachusetts State Police.
Traffic was tied up for about two hours during the morning commute, and debris from the wreck damaged two other vehicles in the tunnel, according to media reports.
No injuries were reported.
Police did not identify the driver.
The incident was captured on an MDOT traffic cam.