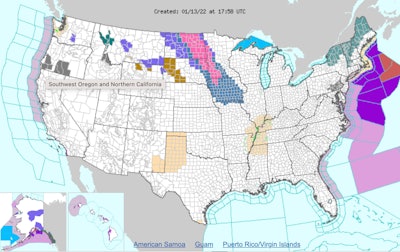 Once again, travel could get difficult as the latest winter storm is expected to deliver heavy snow in some parts of the U.S. while temperatures plummet elsewhere between tonight and Monday.
AccuWeather is blaming the latest set of problems on what it calls a "Saskatchewan screamer", which should not be confused with an "Alberta clipper". (Both are bad winter storms coming from Canada; one simply originates in the province of Saskatchewan and the other in, yes, Alberta.)
The National Weather Service says the storm is expected to bring heavy snow and gusty winds to the Northern Plains into the Upper and Mid-Mississippi Valley. It's expected to cause some hazardous travel beginning tonight through Friday night. The winter storm system is also expected to impact the Mid-South, Southeast, and East Coast on the weekend.
Snowfall projections include:
Fargo, North Dakota, 6 to 10 inches
Minneapolis and St. Paul, 3 to 6 inches
Des Moines and elsewhere in Iowa, 6 to 12 inches
St. Louis 3 to 6 inches
the Appalachians, 12 to 18 inches of snow
Pittsburgh, 6 to 12 inches
Temperatures are expected to plunge behind an arctic cold front pushing through the Northeast by the end of the week and could lead to dangerous wind chills into Saturday morning, according to the weather service.
The storm is expected to cross the South Saturday and Saturday night. Accuweather says snow, ice, rain and wind will then spread up the Northeast coast on Sunday night and Monday, with over a foot of snow possible over portions of the interior Northeast. From 3 to 6 inches of snow could blanket the Interstate 95 corridor.