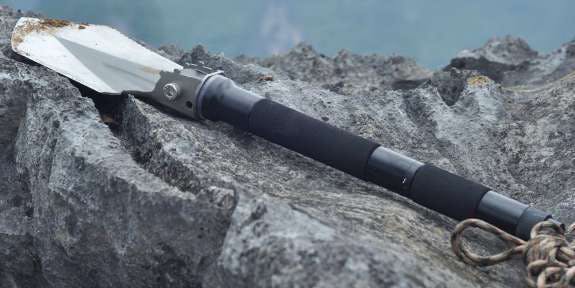 How many times have you said, "What I really need is a shovel … or an axe … or a hammer … or …" when faced with some sort of roadside difficulty?
But, with limited space in your truck, carrying a bunch of tools can often be a pain.
The FiveJoy Backcountry shovel may be what you need because it's more than just a shovel. This multi-functional tool actually is a shovel, hoe, axe, hammer, saw, knife, wire cutter, bottle opener, fire-starter, whistle, and even holds paracord.
This tool's shovel head can adjust to a 180-degree angle (shovel), or an 85-degree angle (hoe), or 40-degree (hook). And, the shovel head folds completely down for safe storage.
The shovel head and the knife are made of high-carbon stainless steel, the handle is made of aerospace grade aluminum.