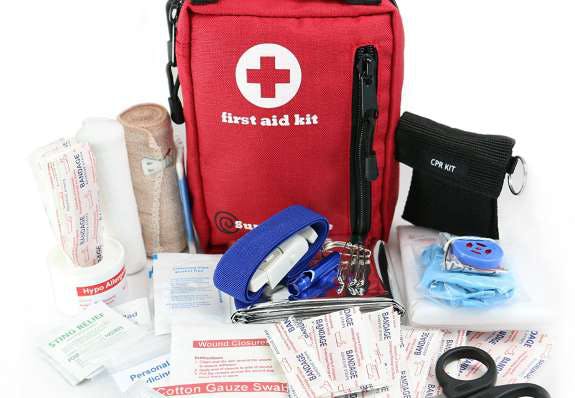 This is one of those things you often tell yourself about — "I ought to have a good first aid kit in my truck." — but often don't have the time to act on it.
Now you can.
This first aid kit may be small, but it is nicely compact and yet complete. And, you won't need to take a second mortgage to get it in your truck.
It's just 5.5″  x  7.5″ x  3.5″ and weighs about 1 lb.; a good fit for your truck's glove compartment or other small storage cubby.
But, despite its modest size,this kit packs plenty of supplies, including:
6" Shears
600D Polyester Bag
Alcohol Wipes (3)
Antiseptic Wipes (4)
Bandages: Butterfly Closures (5), Butterfly (5), H-Shape (5), Large (2), Standard (20), Mini (5), Square Shape (5)
Cotton Gauze Swabs (3)
Cotton Swabs (10)
CPR Pouch with Instructions
CPR Breathing Mask
Crepe Bandage
Emergency Blanket
Eye Pads (2)
Hypoallergenic Tape
Nitrile Gloves
Personal Medicine Laminate Bag
Personal Medicine Mini Bags (5)
PBT Conforming Bandage
Safety Pins
Splinter Probes (2)
Strip Wound Closures (3)
Sting Relief Wipes (3)
Tourniquet
Triangular Bandage
Tweezers
Whistle