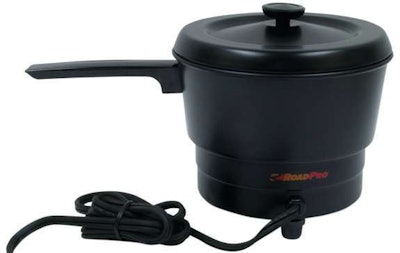 Just as some home kitchens are bigger than others, so are the cooking spaces available in truck cabs.
If you find yourself with a modest amount of space in your truck for meal preparation, you may have to be selective about the tools and appliances you carry.
RoadPro's 12-volt Portable Sauce Pan and Popcorn Maker is one of those kitchen items that can serve many purposes. Its one quart size is ideal for reheating food you may have originally prepared at home or canned soups and stews you can pick up at travel centers or grocery stores.
Plus, it shines when it comes to making your end of day stop more enjoyable. You can plug it in to your 12-volt port and make a batch of popcorn to enjoy as you relax with a movie you stream from one of your online services.
The pan draws 13 amps and 150 watts.
Available online and at most travel stops.