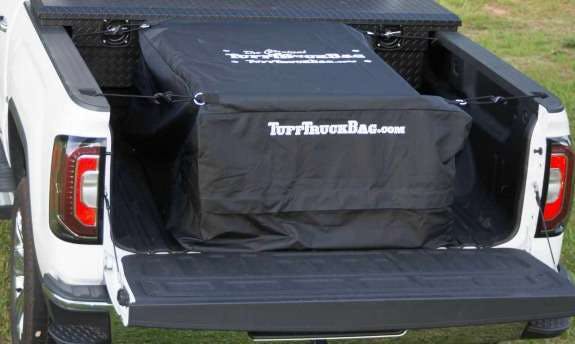 The bed of your pickup truck is ideal for carrying for most everything from groceries to cement blocks to tools for the job site to your brother-in-law's new couch. And, most often it does just fine.
But, sometimes you need what you're carrying to have some protection from the elements if you don't have a cap of some sort.
The Tuff Truck Bag answers that call. Anchored to the sides of the bed with bungee cords and zipped closed, the bag provides 26 cubic feet of water and weatherproof storage.
The Tuff Truck Bag has heat fused and epoxy sealed seams and a triple fold flap to cover and shield the zipper.
It comes with a storage bag and four bungee cords.
Available online for $200.