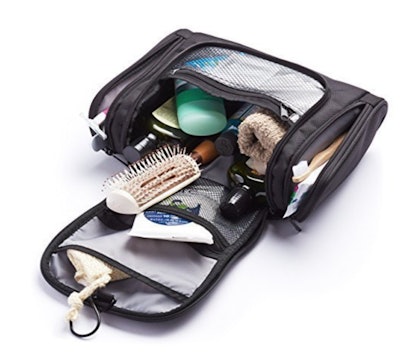 After being on the road all day or getting ready to start driving first thing in the morning, the last thing you need to do is to fumble around with all the items you need for a shower and shave.
The second to the last thing you need is to spend a lot of money getting and keeping those things organized.
Online mega-seller Amazon has its own line of products called Amazon Basics. One such item is a hanging toiletry bag.
Measuring 9.6 inches x 8.2 inches x 3.3 inches, this bag has plenty of room for all your on-the-road grooming needs. It had a large main compartment with a mesh divider and two external compartments, one on each side. It features a top hook so you can hang it from a towel rack or shower head. Made of heavy-duty polyester, the bag is plenty rugged.
And, here is the beauty of the Amazon Basics line: this sturdy, roomy bag is just $15 on Amazon.