The American trucking landscape changed for many truckers with the mandated arrival of electronic logging devices. Canadian drivers are about to face a similar change.
Like it or not, ELDs are a fact of trucking life. As a result, the old saying of "close enough is good enough" is no longer true. Every minute and every mile count more than ever.
Fortunately, help is at hand.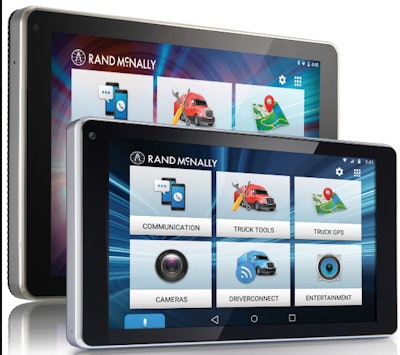 Rand McNally's OverDryve Pro 8 is an all-in-one dashboard device that helps truckers ensure every minute in the truck is well spent and that every mile traveled makes sense. 
The OverDryve Pro 8 comes loaded with the navigation tools expected and needed by professional drivers. It's also equipped to provide essential trucking business tools. There are also some whistles and bells to keep a driver connected and entertained along their way. Not to mention safe.
With the OverDryve Pro 8, you can receive real-time updates about the weather, traffic, and fuel prices specific to your route. It also provides advanced lane guidance, toll costs, warnings, fuel logs, and points of interest including truck stops and parking. All are displayed on an easy to read 8-inch screen.
The built-in Rand McNally DriverConnect app allows you to also log your duty hours. OverDryve Pro 8 is ELD-ready, allowing you to simply connect the app to the ELD 50 or DC 200 device for a complete electronic logging solution.
The Pro 8 is also set up so you can make and receive calls and send texts hands-free, and the OverDryve Pro 8 includes a dash cam to record the road ahead.
The Pro 8 is available at travel centers and online.