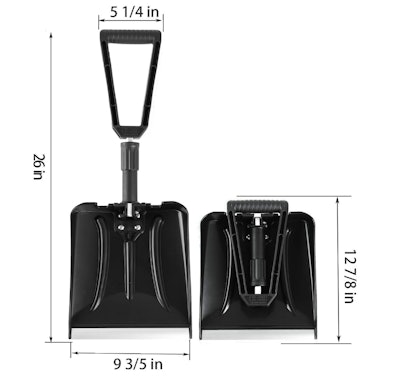 The days before and after the recent Thanksgiving holiday found 30 of the 50 states blanketed with at least 4 inches of snow from a rare and persistent coast to coast winter storm. Some places got much more than that:
30″ in Muddy Gap, Wyoming
28″ in Fultonville, New York
23.5″ in Duluth, Minnesota
20″ in Featherville, Idaho
15″ on Wolf Creek Pass, Colorado
14″ in Chadron, Nebraska
12.4″ in Ogunquit. Maine
The storm — a so-called "bomb cyclone" — left many truckers shutdown on interstates or at truck stops and caused several states to enact restrictions on tractor-trailer travel.
If nothing else, this latest winter episode ought to serve as a reminder to be prepared for what the weather might deliver. Beyond having warm clothes and a good set of chains, it makes sense to have some tools you can turn to if you should get stranded by snow.
A decent shovel is a "must-have" for anyone traveling just about anywhere this time of year. This Eliverne foldable shovel is such a tool. Lightweight and sturdy. it folds, has a large D-grip handle and an aluminum edge. Its handle can extend from 13 to 26 inches to accommodate the sort of snow removal you have to do.