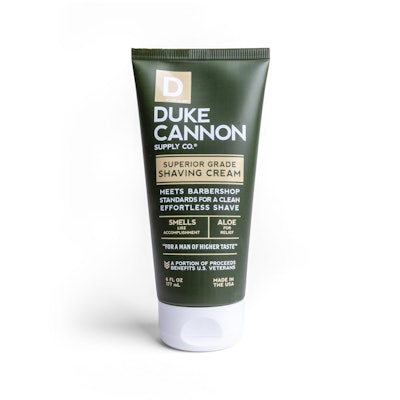 Despite the over-proliferation of male facial hair in the last 10 years, many truckers still prefer the feeling of a close, clean shave. And, even their brothers of the brush often require a bit of tidying up.
For all of them, the Duke Cannon Supply Company offers several different shaving gels and a suitable aftershave balm.
Duke Cannon Superior Grade Shaving Cream contains:
Aloe Vera for relief

Shea butter for hydration

Macadamia nut oil for the closest possible shave

Calendula extract for recovery

Light bergamot and black pepper scent
Comes in 6 oz. ($9) and 3 oz. ($6) tubes.
Duke Cannon also delivers one of the great joys of male grooming: the hot shave. 
Formerly the province of dedicated barbers using hot towels, now you can enjoy warm shave cream whenever you stop to shave.
Duke Cannon's Hot Shave is a clear shaving gel with a warming sensation that helps deliver the closest possible shave. All you do is apply a small amount with warm water and wait 20-30 seconds before shaving to activate the heat. This, according to the company, opens the pores, softens and lubricates the skin for a precise, comfortable shave.
Duke Cannon's Hot Shave includes:
lubricating pre-shave oil

warming shave gel

Aloe Vera for protection
It comes in 4.5 oz. ($12) and 3 oz. ($8) tubes.
The folks at Duke Cannon also offer Fresh Aloe Premium Shave Gel. It has shea butter for hydration, green team to soothe your skin and aloe vera for relief.
An 8 oz. container is $9.
No matter which Duke Cannon shave gel you use, it makes sense to follow with a splash of its After-Shave Balm.
Made with menthol, it also contains aloe, shea butter, and allantoin to provide hydration while minimizing razor burn irritation, and a light sandalwood fragrance.
Contains no alcohol, parabens or sulfates.
A 6 oz. bottle costs $15 and a 2 oz. travel size is $8.