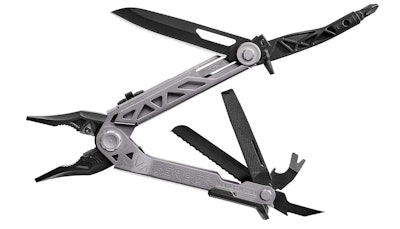 The Gerber Center-Drive Multi-Tool has a number of ways to help you while on the road, as well it should. It also has something else: ease of use.
Made in Portland, Oregon, this multi-tool includes a 12 piece standard bit set and black sheath. This makes it more functional and can help solve more on-the-road repairs.
The Gerber Center-Drive Multi-Tool also has:
an innovative 3.2" center-axis driver opens to align like a real screwdriver, delivering maximum torque and rotation, with magnetic replaceable bit head

Full-size, 3.25" outboard knife that has a closed length of4.7 inches, and open length of6.6 inches

One-thumb opening sliding jaws deliver instant command of spring-loaded pliers
Weighing just about 10 ounces, it's easy to keep handy for modest repairs in your cab or outside.