Garmin's dēzl OTR1000 GPS truck navigator is like having a wise veteran driver in the cab with you, but not having to listen to their music or stop when they want to.
The OTR1000 is part of longtime navigation device maker Garmin's line of trucking-specific devices that can not just help get you where you're going but get there safely and on time. And the dēzl OTR1000 will also help you find a place to park, help you avoid congestion, and make sure you don't get on a highway you oughtn't to be on.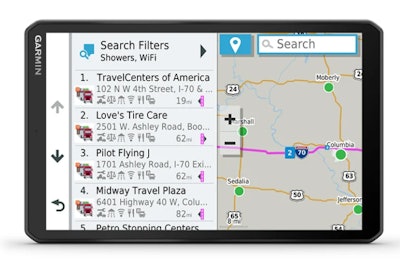 The OTR1000 has an easy-to-read 10-inch HD touchscreen that displays custom truck routing details based on the size and weight of your rig, and industry-best load-to-dock guidance. This allows drivers to see specific loading zones and storage lots to bypass common public entrances when approaching their destination. 
This oversized navigator also delivers alerts for upcoming bridge heights, weight limits, sharp curves, steep grades, and more. The dēzl OTR1000 also has preloaded directories of truck and trailer services, letting drivers find preferred truck stops by brand or amenities. The unit's truck-friendly parking information and timely break planning notifications help truckers make the most of each stop as well as every hour on the road. The OTR1000 is ideal for helping you plan each day's drive.
The dēzl OTR1000 comes with several mounting options, including a powered magnetic mount with a heavy-duty suction cup, a screw-down mount, and a 1-inch ball adapter with an AMPS plate compatible with RAM mounting systems.
This navigator can be paired with the Garmin Drivemobile app to access live fuel prices, traffic, and weather, as well as phone notifications and photoLive traffic camera updates. Additionally, it can connect to Garmin's wireless backup cameras5, or third-party backup cameras to easily see behind a truck when reversing. The dēzl OTR1000 also works with the Garmin eLog compliant ELD for subscription-free hours of service recording.
Finally, a voice assistant allows you to have the kind of hands-free driving you need. 
See more gear and information to make your daily drive safer and more comfortable in the Overdrive and Truckers News Truckers Gear Guide from the Roadpro Family of Brands.