Rand McNally recently released the second generation of its popular all-in-one, trucker-specific navigation device. The OverDryve 7 Pro II remains loaded with features professional drivers will appreciate and has Rand McNally's new Navigation 2.0 truck routing software.  
Also new to the OverDryve 7 Pro II is a fully-adjustable dashcam and other improved hardware. The OverDryve 7 Pro II's dashcam lets you record the optimal view without compromising placement on the dash. The camera's lens is positioned on a nozzle, allowing you to direct where the camera is aimed. The dashcam also features automatic collision detection with immediate loop recording to capture those critical moments, according to the company.
The OverDryve 7 Pro II's mount has a SiriusXM satellite radio receiver built into it, so you can listen to your favorite channels on the go. Listen straight from the device or stream through your truck's stereo system. The unit comes with a three-month free trial subscription to SiriusXM
Featuring improved mounting hardware, the OverDryve 7 Pro II's magnetic mount is built to withstand even the harshest driving conditions, ideal for over-the-road driving or for use in harsh and demanding conditions. The mount also allows Bluetooth tethering to any Bluetooth-enabled speaker.
With the OverDryve 7 Pro II, drivers can stay connected on the road. It allows you to download apps to help you stay busy during downtime and catch up on social media, check email, stream movies, music, and podcasts, and play games. And when you're on the road, The OverDryve 7 Pro II's voice assistant can help you make calls, send and receive text messages, check the weather, play music, and more — all hands-free.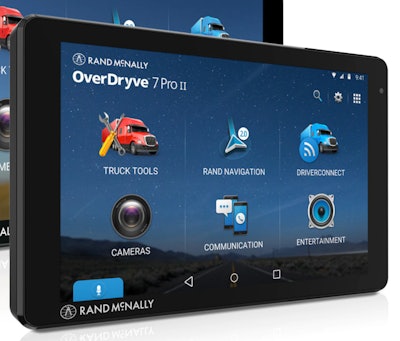 It also lets you:
Quickly view amenities such as travel centers and fuel stops at upcoming exits
Receive voice alerts of what's ahead, such as turns, steep grades, or complicated interchanges
Compare routes, use multi-stop routing, and place breadcrumbs
View fuel prices on the map, then track fuel purchases and calculate fuel economy
View upcoming junctions in 3-D with a split-screen display with lane guidance
Set warnings for speed limit changes, sharp curves, steep grades
Show the current weather forecast, or choose 10 different map overlays, like precipitation and wind speed
See detailed information on travel centers, truck stops, weigh stations, service and repair stops
View estimated toll costs and compare routes without tolls
Find major construction projects along your route, and calculate possible detours
Add map updates when available
The OverDryve 7 Pro II delivers all of that on a 7-inch touch screen.