While you need legal headlights as well as marker lights, turn signals, exterior cab lights, and lighting on and in your trailer, you also need some additional lighting inside your truck's cab. When your driving day is over, and you're relaxing or catching up on paperwork, having a meal, or reading a book, you'll need sufficient lighting so you can see what you're doing. While most trucks for commercial use come outfitted with decent interior lighting, there still are times and locations where you may need more. Fortunately, you have many to choose from.
But, before we get into specifics, let's talk about one important word when it comes to lighting: lumens. Dictionarily speaking, a lumen is "a unit of luminous flux equal to the light emitted in a unit solid angle by a uniform point source of one candle intensity." Or, to put it simply, a lumen is a measure of the amount of light from a lamp or other source you can see. So, most importantly, the higher the lumen rating of any of these lights, the brighter the light will appear. Now, onto the specifics.
LUMAGEAR LED Magnetic/Adhesive Touch Lights
LUMAGEAR, a member of the RoadPro Family of Brands, delivers a solution to that constant problem of not having enough light where you sometimes need it most: inside a closet or cupboard or near your sleeper berth's desk space. LUMAGEAR offers a selection of interior lights that will brighten your cab and your day. They fall into essentially two categories based on how they are mounted. Some have magnetic backs, while others affix to your truck's interior with an adhesive.
RELATED NEWS: Read more trucker tips in the Overdrive and truckers News Truckers Gear Guide
Ones with magnetic backs include:
COB Sensor Light: This long, slim light provides 250 lumens and is powered by three AA batteries.
20 LED Sensor Light: This one uses four AAA to generate 120 lumens. This model has a motion-detecting on/off function, making it ideal for a location where you want/need light but may not be able to turn it on easily
6 LED Sensor Light: This LUMAGEAR light provides 50 lumens of light and has a motion detector power switch.
LED Light Bars with Remote: Another long, slim rectangular light bar with a remote control to easily turn the light on and off. Meaning you don't have to get out of bed to operate them. These powerful light bars provide 200 lumens and are powered by 6 AAA batteries. Sold in a pack of two.

LUMAGEAR lights with adhesive backs include:
COB Push Lights: Small and round, these hockey puck-sized light uses six AAA batteries to give you 200 lumens. Turn them on and off with a simple tap of your finger.
Motion Sensor Night Light:  Square and throwing 30 lumens of light, this little light has a motion sensor powered by 3 AAA batteries.     
LUMAGEAR's newest line of lights can be found at most truck stops and travel centers.
Gator Eyes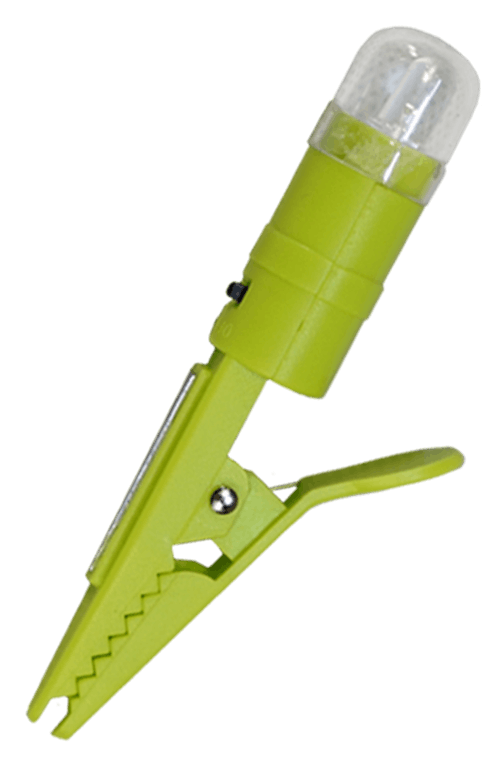 Sometimes having a light is only half the solution to any problem you're likely to encounter on the road. Getting that light trained where you want it while also having your hands is the rest of the issue. Gator Eyes solves that issue. These ingenious miniature flashlights have a four-volt LED affixed to a multi-function case that is a plastic alligator clip. You can use the clip to hold the mini-light in place as you work or read. Or, you can use the magnet that is built into the case to affix it to any metal in or on your truck. The lithium batteries that power the Gator Eyes are included.
Gator Eyes come in a five-pack and sell online for $10.99.
Button Lamps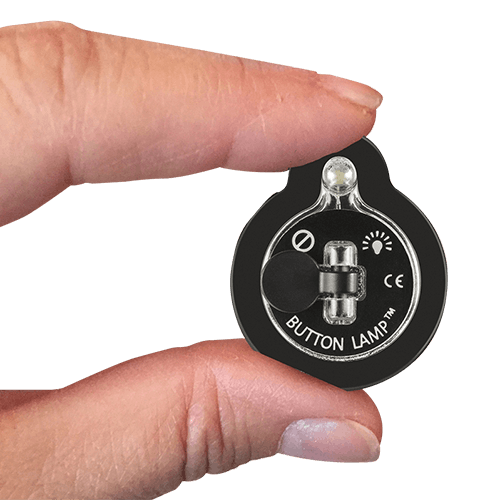 Too often, there is a spot in your truck that cries out for illumination but has no convenient place to stow a flashlight, so it's handy when you need it. If there is a flat space about the size of a quarter, you can affix a Button Lamp and see what you need to see. Button Lamps have LED bulbs that provide fully 13 lumens of light. They come with a power adhesive you can use to affix a Button Lamp where it's needed. The mini lights are weather and shockproof and rated to provide more than 17 hours of battery life. Batteries are included.
A six-pack of Button Lamps sells online for $9.99.
Finger Flashlights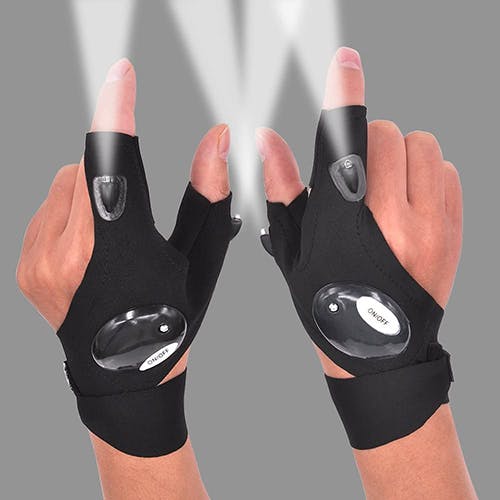 These may seem like a novelty item you might put in your kid's Christmas stocking, but these work gloves outfitted with two LEDs on each index finger and thumb can be helpful in so many ways. Made of polyester, they are breathable and stretchy making them comfortable to wear. The on/off switch is found on the back of each glove. They take two CR2016 button batteries, which last about 39 hours before needing to be replaced.
Available online for $15.99.
Atomic Beam TapLight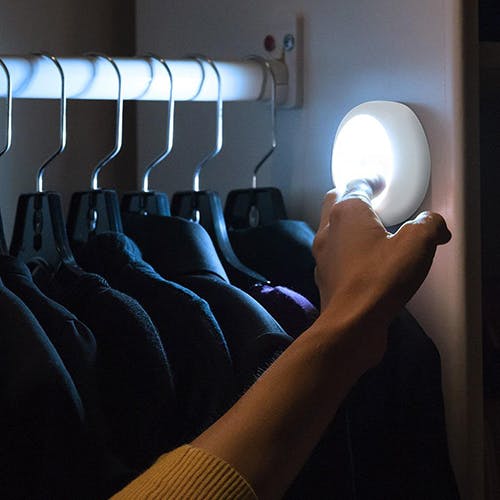 Despite living in the original mini-home – your truck's sleeper berth – there often are times when you can't see what you're looking for in a closet or cupboard. Having An Atomic Beam TapLight inside that storage space means you always have enough light to find what you seek. A super-bright LED is powered by three AAA batteries (not included). Like the Button Lamps, the Atomic Beam TapLight has adhesive you can use to affix it to any flat surface, like the indoor of a cupboard or closet.
One Atomic Beam sells online for $9.99.
Northlight LED Outdoor Christmas Rope Lights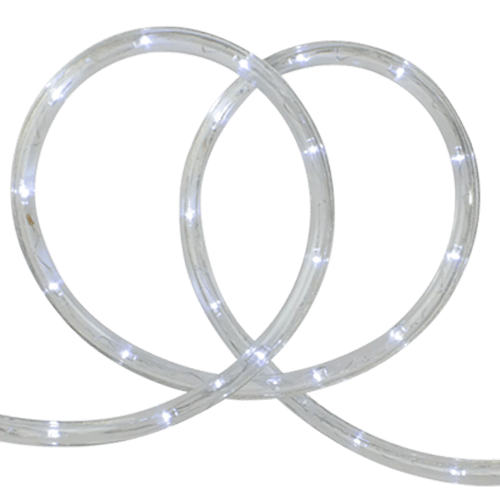 Not everything you put in your truck's cab MUST be practical, functional and utilitarian. It's possible to also have a little fun, which is what this 18-foot-long rope of Christmas lights provides. String them above your bunk and you can be bathed in soft white light. Or, buy them in one of several colors for an even more festive feel.
Available online for $31.24