Jon Osburn, the driver of the Owner-Operator Independent Drivers Association's Spirit of American Trucker rig, recently retired. will have retired. Osburn and his faithful canine companion, Sassy, could be found at many truck stops and truck shows since 2012, informing drivers of the OOIDA mission and providing information about the industry. RoadPro had an opportunity to speak to him right before his retirement and found out more about the Spirit truck and what it is all about.
What is the purpose of the Spirit?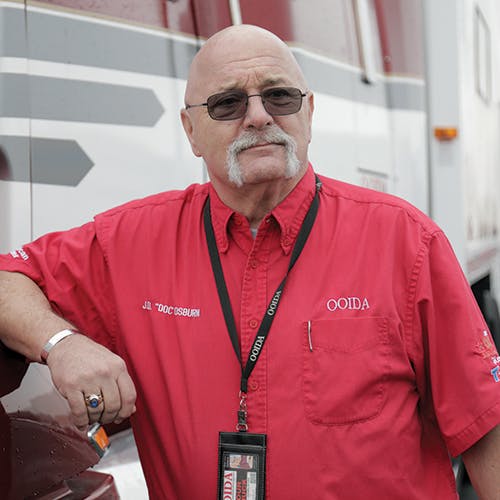 Jon Osburn"The truck was started 20 years ago by an OOIDA board member and his wife. It was a Mayflower moving van converted into a tour trailer. In 2001, I took over the wheel and the Spirit's schedule, whose primary purpose is to get information out to the drivers. This includes the most up-to-date rules and regulations that are specific to not only federal but State. There is also a lot of socializing that goes on – whether they want to renew their OOIDA membership or if they just want to have a cup of coffee and chat – we are here for the drivers."
Where does the Spirit travel?
"I have been as far east as Bangor, Maine, and as west as Portland, Oregon. I have been everywhere and in every state, with the exception of Vermont, as there are no truck stops that have more than 100 spots. I don't want to take a space away from someone who needs it, so you can usually find the Spirit in truck stops with 100 spaces or more.  I typically travel 25,000 miles per year which isn't much for the average over-the-road driver, and depending on the location; I will stay up to four days.  For example, the Petro in Arkansas is a busy stop, so that one may be a two to four-day stop, where a stop in New Hampshire may only be two."
What has the Spirit meant to drivers this past year during COVID?
"Over this past year, I felt that the Spirit brought some normality by seeing it in the truck stops and travel centers. I think it meant a lot that the Spirit was there and provided a familiar place.  The neat thing was that RoadPro products provided tools to survive when the restaurants closed, and there were many sharing recipes. Drivers who never cooked in the cab before became great cooks, and even after I left a location, I often received emails from drivers with their latest recipes they had created or how to make a great meal with limited options. While I still love to support the local restaurants and sit down and eat a good meal when they closed due to COVID, I became an advocate for cooking in the truck and provided tips on how drivers could do the same. I also shared what I learned from others and pointed out how they could save some money by making their own coffee with RoadPro's 12-volt coffee maker or cooking something as simple as a pot roast in RoadPro 12-volt crockpot. All of the restaurants on I-5 in California, for example, shut down and still remain closed, so having the ability to cook in your truck was key. Visitors to the truck were down significantly from 2019, and 2020 was supposed to be busy with 30-weekend events planned, but of course, that did not happen.  I did my best to provide a place for them to come and made sure that the truck was always sanitized by wiping everything down every two hours and handing out masks to those that may have needed one."
What changes have you seen in trucking over the years?
"Of course, the trucks themselves have changed drastically since I started.  My first truck had no power steering, and not many of the amenities like the trucks do today.  The other thing I would say is the disappearance of the sit-down restaurants.  The new truck drivers don't realize what it was like when the restaurants were there.  I always loved to sit down and have a good meal, and 15 years ago, many truck stops used to have a whiteboard with local dishes.  You don't see that much anymore; now it's all fast food. There were always good places like the Petro in Clearwater, Minnesota, that have fresh pike on Friday nights and the best French Toast on Saturday mornings, so I always made a point to go there. Since COVID, many of the sit-down restaurants that remain have closed; I hope they come back, but it looks like many of them won't. You can still find a few places like the Black Bear Diner in the western states. They are always positioned near truck stops and have that good old-fashioned comfort food. You always get plenty of food and enough to make another meal."
What has it meant to you to be the skipper of this truck?
"It has been an honor being trusted with this job, and I have always taken my job very seriously. It was an honor to educate drivers when they had no idea what OOIDA was or did.  I enjoyed meeting new people and sharing information to help them with their careers.   I also made some great friends along the way."   
What do you want other drivers to know about the Spirit's mission/purpose?
"The mission is to provide information on the education that OOIDA can provide. Letting them know about the discounts and services that an OOIDA membership gives them and educating them on the tax laws, regulations, and answering questions about the industry.  It is also about community and sharing things that will help them live better while out on the road."
What will you miss or not miss about your time with the Spirit?
"Talking with all the people. I will miss seeing some of those familiar faces every year.  I am blessed that I will still be able to help out from time to time at some events or when Marty needs some time off.  I will also miss everyone at OOIDA that I have worked with and the camaraderie.  I won't miss the guy that throws his trash in the parking lot that I would go and pick up on my walks with my dog Sassy or wrapping up the truck in the pouring rain. It has been fun, but I promised my wife, who has already retired, to come home and spend time with family and my grandbaby's. I also didn't want to have my 70th Birthday in the truck."
While Jon and his pup Sassy will surely be missed by many, Marty Ellis will be taking over the Spirit's helm to continue the OOIDA mission. Be on the lookout for Marty and the Spirit, and make sure you stop in and say hello. You might just learn something new.