Trucking can, at times, be a dirty business, but especially if you're a flatbedder tarping loads, a tanker driver, or on a route where you have to do some or all of the loading/unloading. And, as the COVID-19 pandemic drags on, getting clean while on the road is more important -- but not more convenient -- than ever.
It's not just a question of proper hygiene or personal safety these days, freshening up on your break or getting clean when you're done for the day can also make you feel better, more relaxed, and drive better.
That being said, there is research that suggests most of us are showering or bathing too often. Studies show that two-thirds of Americans shower every day, and mostly out of a force of habit, not necessarily because they are dirty.
However, showering can leave your skin dry, irritated, or itchy. It also can kill off helpful bacteria necessary to your good health.
According to the Harvard Medical School, "While there is no ideal frequency, experts suggest that showering several times per week is plenty for most people (unless you are grimy, sweaty, or have other reasons to shower more often). Short showers (lasting three or four minutes) with a focus on the armpits and groin may suffice."
Regardless of how often you shower, bathe or simply tidy up in your cab at the end of the day, you need to have the appropriate gear.  
Cold Shower Cooling Field Towels
One of the immutable truths about trucking is that you will, from time to time, find yourself in need of something, and because of living much of your life on the road and it is not readily available. That's true about a parking spot, about a decent hot meal, and a place to take a shower.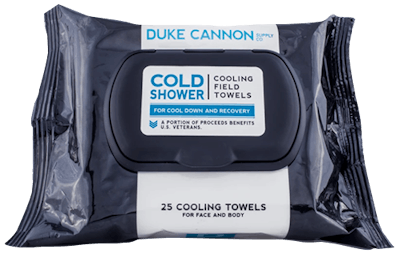 It's especially annoying this time of year when temperatures and humidity increase and you need to clean up and cool down … and you are nowhere near a truck stop or hotel shower. Fortunately, the folks at Duke Cannon Supply Co. created a solution for soldiers that can also be used by truckers.
Duke Cannon's Cold Shower Cooling Field Towels were created with soldiers in Afghanistan in mind. The single-use towels "are manufactured with menthol, aloe, and jojoba to provide a chilling blast as they cleanse and protect," according to the company. Sounds like the sort of thing you'll need after a long day and/or night on the road.
Duke Cannon's Cold Shower Cooling Field Towels come in 25-pack for $10 online.
Duke Cannon also offers a convenient Cold Shower Bundle that includes Cooling Field Towels, Ice Cold Body Scrub, Dry Ice Cooling Antiperspirant and Deodorant and Quick Buff Siberian Mint Face Scrub for $39.50 online.  Duke Cannon products are also available at travel centers an d truck stops.
Colgate Max Fresh Wisp Disposable Mini Toothbrush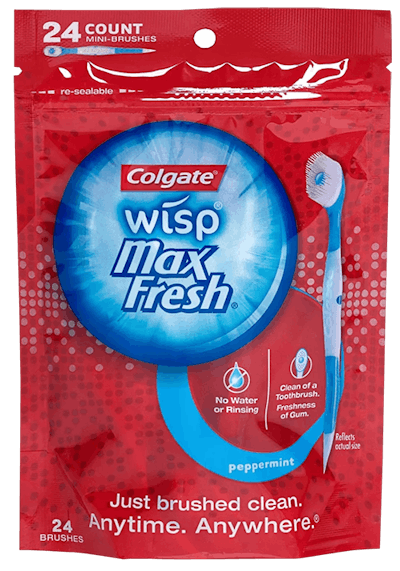 Even on the road, proper dental hygiene is important. However, it can be difficult to accomplish.
The Colgate Wisp Mini Brush changes that. This pocket-sized brush delivers all you need to have fresh breath and clean teeth without ever having to leave your truck.  
It has a built-in, sugar-free peppermint bead that easily dissolves and delivers minty freshness while the bristles gently remove food and other particles. The Wisp removes plaque and no water or rinsing is necessary.
A soft pick at the handle base of the disposable toothbrush removes food particles from hard-to-reach areas.
A package of 24 Wisp brushes is $4.49 at Target.
Helpmate delivers travel-size personal care products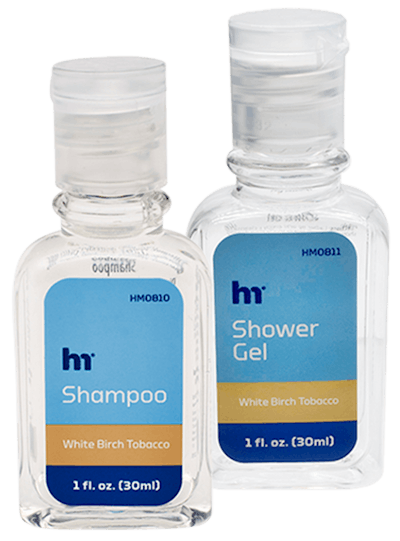 There's no need to lug a full-sized bottle of shampoo around. Likewise, you can stay clean and safe with small containers of body wash and hand sanitizer that tuck easily into your toiletry kit.
Helpmate offers one and two-ounce bottles of hand sanitizer, which is still good to have with you even as the rate of COVID vaccinations increases. The member of the Roadpro Family of Brands also has convenient one-ounce bottles of shampoo and body wash, both of which are easy to take into the shower.
All three of these products are available at travel centers and truck stops.
PackTowl Personal Microfiber Towel
This absorbent, fast-drying microfiber towel is a favorite of campers and hikers but is ideal for truckers. It uses Polygiene odor control to stay fresher longer, and dries 70% faster than similar cotton towels. Sizes include face, hand, body and beach. The body-sized towel is 25" x 54". Prices range from $11.95 to $41.95, depending on size. Available online.   
Waterless Dry Shampoo
On those days when you can't find a shower but need to wash your hair, this product's name says it all. Made of micro-fine tapioca starch, this dry shampoo absorbs oil and refreshes hair, and leaves no residue. No water is necessary.
Black Canyon Outfitters Toiletry Organizer
When you do have the time and opportunity to take a shower, it makes sense to have all your needed items in one place. Black Canyon Outfitters, one of the RoadPro Family of Brands, has a bit of luggage that does that well.
This durable, water-resistant toiletry organizer provides convenient storage of liquids, gels, or other products that could spill and prevents leakage into your luggage. It has five internal pockets and a built-in hook so you can hang it near where you shower.
At 10" x 7" x 5", this toiletry organizer provides plenty of room for everything you need when you hit the showers. Made of durable ripstop nylon, the organizer retails for about $13 online, at big box stores and travel centers.
Here are some of the other items you ought to include in that organizer to ensure you have what you need when you need it, be it a truck stop shower or cleaning up in the cab of your truck:
●    A bar of soap or some sort of body wash gel
●     Shampoo (and conditioner if you use it)
●     Razor, shave cream and aftershave and/or beard oil and balm
●     Toothbrush, toothpaste, floss, mouth wash
●     Soothing foot powder
●     Your favorite deodorant
●     Fingernail/toenail clippers
●     Brush and comb
●     First aid ointment like Neosporin
●     Itch-relief salve like Benadryl
●     Sunscreen
●     Over-the-counter pain relievers like ibuprofen, aspirin, or acetaminophen (Tylenol)
So, regardless of when and how often you shower, having a well-stocked toiletry organizer or Dopp kit can make the process easier and more convenient. And, it means you will not have to worry about not having what you need once you get in the shower.